Truly local news in Wales needs 'reinventing'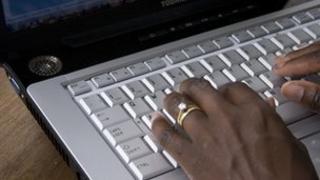 Truly local news provision needs to be reinvented in much of Wales, a conference in Cardiff has been told.
In recent years newspapers have cut jobs and some have closed leading to a reduction in the coverage of local issues and Welsh politics - described as the "democratic deficit".
AMs were urged to make their work more relevant to people's lives and to back efforts to create local news websites.
Fears local community issues could be missed by the media were also raised.
Ken Smith, who chaired some of the discussions, formed a not-for-profit company with fellow journalists to create the Port Talbot Magnet news website.
The firm is also preparing to launch a print edition of its service.
"There's a need to get the news out there - and it's connecting what's happening as news in a place like the assembly and how that can be translated on the ground for people and who is best placed to do that," he said.
"There is a diversity of different options that are available - local newspapers, local online, social media.
"But the fact of the matter is that people want to see news. There's people out there who are willing to provide news - it is a matter of bringing it together."
Mr Smith said local communities needed people to "be their filter, to ask the questions that they would ask if they got the opportunity".
"I think that in many areas of Wales that has disappeared, with the closure of local newspapers and local news outlets, and we need to invent that from the bottom up," he added.
The conference also heard from Bryn Roberts, station manager of the Welsh capital's new local television service Made in Cardiff, which is expected to launch in November.
It is partly funded by £150,000 of BBC licence fee money in its first year, but Mr Roberts said his budget for 12 months was the level of funding S4C enjoys for just a week.
He explained his channel's news and current affairs programmes would be "unashamedly Cardiff centric" and feature at least as much politics from Cardiff County Hall as from the assembly chamber "if not more".
But he stressed it would concentrate on issues that mattered to the public - if there was a problem at the local accident and emergency unit for example.
Political coverage
At the first conference, which was held in May, political commentators warned it was "whistling in the wind" to expect London-based newspapers to take more notice of Welsh politics".
AMs were told their debates were "grim to watch", did little to create interest in what they do and were urged to use social media more to stimulate debate.
Assembly Presiding Officer Rosemary Butler organised the second conference to consider how community and citizen journalism and bloggers might improve Welsh political coverage.
Speaking before the conference she said: "We should look at the success of community initiatives, their viability in the long-term, and ask what steps the assembly should take to help galvanise more people to become active local citizens."