Silk Commission on devolution starts seeking public comments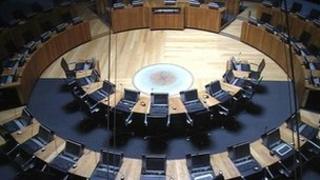 An inquiry into the future of devolution is inviting the public to have its say.
The Silk Commission is holding the first in a series of drop-in sessions for people in south-east Wales.
Set up by the UK government, the commission will publish a report in the spring of 2014 looking at the Welsh assembly's powers.
An earlier report by the commission said the Welsh government should have some tax-varying powers.
The second part of the inquiry's work is taking evidence on whether there should be other changes to the devolution settlement.
'Listening'
It is looking at what policy areas should be controlled by the devolved administration and what should remain under the government in Westminster.
Public meetings will be held over three days in Cardiff, Newport, Abertillery, Monmouth, Merthyr Tydfil and Pontypridd. Further meetings will be held in north, mid and west Wales next month.
Chairman Paul Silk said: "We are determined to come up with recommendations which will have a wide degree of support and are in the best interests of Wales.
"We can only do this by listening and analysing the evidence presented to us and hearing as many views as possible."
'Cardiff Bay bubble'
He added: "Our message is simple, come along and play your part in ensuring that Wales has the right powers for the future."
Roger Scully, from the Wales Governance Centre at Cardiff University, told Radio Wales that it did not necessarily matter that a lot of the public did not appear to be "particularly engaged" with the commission's work.
He said: "It is important though in the sense that it is physically getting away from the Cardiff Bay bubble. It is going around to different parts of the country and at least giving people the opportunity to come, to participate, to put their views across.
"But this is only part of the Silk Commission's work in finding out what the public think.
"Most people are not going to take up that opportunity but at least the commission has made the effort to engage with people."
Silk Commission public meetings
21 May: Chapter Arts Centre, Market Street, Cardiff
21 May: Castle Room, Newport Centre, Kingsway, Newport
22 May: Metropole Cultural and Conference Centre, Mitre Street, Abertillery
22 May: Shire Hall, Agincourt Square, Monmouth
23 May: Theatr Soar, Merthyr
23 May: Gartholwg Community Campus, St Illtyd's Road, Pontypridd
4 June: Llandudno Town Hall, Lloyd Street, Llandudno
4 June: Catrin Finch Centre, Plas Coch Campus, Mold Road, Wrexham
5 June: Penrhyn Hall, Ffordd Gwynedd, Bangor
5 June: Llangefni Town Hall, Llangefni, Anglesey
6 June: Pierhead, Cardiff Bay
25 June: Coleg Powys, Llanidloes Road, Newtown
25 June: National Library of Wales, Penglais, Aberystwyth
26 June: Torch Theatre, St Peter's Road, Milford Haven
26 June: Halliwell Centre, College Road, Carmarthen
27 June: Grand Theatre, Singleton Street, Swansea