Social service changes could raise costs, Welsh councils warn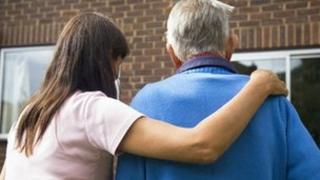 Major changes to social services could result in extra costs for taxpayers, health service and local government leaders have warned.
The Welsh government says legislation giving new rights to carers will be "cost neutral".
The minister responsible said "there is no more money" to run the system.
But there are calls for more detail on how the reforms will work and who will be eligible for what kind of help.
The Social Services and Well-being Bill, designed to simplify the laws that regulate social care, would force councils to assess the needs of carers.
It removes a requirement that only carers who provide "a substantial amount of care on a regular basis" qualify, meaning more would be eligible for assistance.
After an assessment, workers could step in to give carers some time off, or help around the home. It could lead to direct payments so carers can decide what help they need.
The bill is a Labour manifesto commitment and is intended to bring about radical changes in social services at a time when demand for them is increasing because of an ageing population.
However, the Welsh Local Government Association (WLGA) has questioned ministers' claim that the changes will be "cost neutral" for the public purse.
In a recent statement, WLGA health and social services spokesman Mel Nott said: "The idea that the bill is cost neutral simply cannot be the case, particularly in this climate of diminishing budgets."
Criteria for who will be eligible for social care will be decided after the bill is passed.
'Lack of clarity'
Opposition AMs have criticised a lack of clarity, and sources in the NHS say that without more detail it is difficult to gauge the cost of the changes at this stage.
Appearing before the assembly's health committee, Welsh NHS Confederation director Helen Birtwhistle said: "We too would question whether this can be cost neutral and I know that there's a lot of background work going on.
"Our colleagues in the WLGA are looking at costs and finances and financial implications and assessments of that. I think that's going to be a very important piece of work.
"It goes without saying in the current economic climate costs continue to be a challenge for public services, whether it's health services, social care and indeed the third sector."
She said it was not clear from the information provided by the government "how transformational change will be funded".
"Cost is a big issue and the bill is very broad," she added.
'Robust framework'
Deputy social services minister Gwenda Thomas said: "Evidence shows that the current model of social care provision in Wales is no longer sustainable.
"The Social Services and Well-being (Wales) Bill is a response to this and seeks to put in place a more robust framework for care and support which will last a generation.
"It follows that it is financially imperative for this bill to be cost neutral over the long term.
"There is no more money and we simply cannot replace the existing framework with one that costs more."
She said the Welsh government would provide "transition funding" to implement the changes and that grants were available to train staff.
"I welcome the WLGA's acceptance that there are built-in savings but do not agree that these will be outweighed by potential costs," Mrs Thomas said.
She added she was confident that savings would be found through "greater integration of health and social care, a more proportionate approach to assessment and an increased focus on early intervention and prevention".