Smoking ban: Plans to exempt the film industry are stubbed out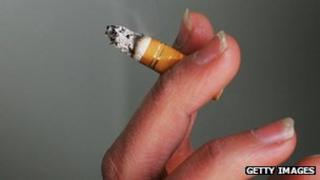 Plans to relax the smoking ban in Wales so actors can light up on film and TV sets have been dropped.
Ministers said they had reviewed the evidence and "will not proceed with the original proposals at this time".
Film and TV companies want an exemption like England's, allowing smoking on film sets for creative reasons.
An assembly committee has been considering the issue after warnings producers were more likely to chose locations outside Wales due to the ban.
Health Minister Mark Drakeford said in a written statement: "The minister for economy, science and transport and I have reviewed the evidence presented to the sub-committees to date, and have concluded that the government will not proceed with the original proposals at this time."
Doctors' leaders had opposed lifting the ban.
But the Film Agency for Wales had said that keeping it "would be an impediment to potential feature productions in what is already a demanding and complex environment".
However Elen de Lacy of Action on Smoking and Health in Wales (ASH) said she was "delighted" the proposals had been ditched.
"The smoking ban has always been about protecting public health and all workers in Wales have a right to be protected from the harm of second hand smoke, wherever they work.
"The film and TV industry's demands have rightly been thrown out and we hope they never make these demands again.
"This decision sends a firm message to all industries who want to challenge our legislation, including the tobacco industry, that our values on public health are not for sale," she added.
Plaid Cymru also welcomed the news.
Party health spokeswoman Elin Jones said: "It was clear from the evidence given to the committee that creating an exemption from the ban was not justified on health or economic grounds.
"Banning smoking in public places has been a great success and we believe that there are further measures that the Welsh government could take to reduce smoking."
'Costly'
But Welsh Conservative culture spokeswoman Suzy Davies described Mr Drakeford's announcement as "bad news for our burgeoning creative industry sector here in Wales".
"Producers in Wales will find it more costly to film scenes involving smoking in Wales, instead they will choose to film elsewhere," she said
"The Welsh government quite rightly realised that providing an exemption to the smoking ban for film and TV would create a level playing field for Welsh producers.
"However, they have caved in to political pressure and ignored the realities."
BBC Wales had joined film industry bodies in calling for changes to the ban for creative reasons.
A spokeswoman said: "There were a wide range of views both in favour and against the proposed amendment.
"In light of today's statement we will continue our focus on winning new commissions and delivering world class drama output from Wales, respecting the decision that the health minister has made."