Greater bovine TB research call from Cardiff scientist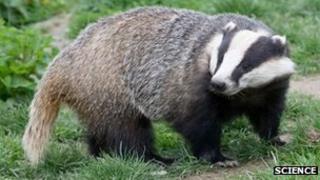 A leading scientist has called on the Welsh government to organise and fund research into bovine TB.
The number of cases have dramatically increased in Wales over the last 20 years.
Ministers are committed to eradicating the disease but the most recent figures show cases are increasing.
An outbreak of bovine TB can force farmers to slaughter some cattle and place restrictions on the movement of others.
Prof Les Baillie from Cardiff University told Sunday Politics Wales there could be "more effort" in Wales to research and address the problem.
His team has been investigating whether natural products, such as hops, could be used to eradicate the disease.
Prof Baillie said: "From our perspective we feel that as a Welsh university, funded by the assembly, we should be doing more to contribute to this particular area of research.
"That's a great resource inside Wales in terms of its higher education sector.
"We think there could be some more effort to directing and harnessing those capabilities towards addressing a Welsh problem."
The Welsh government changed its bovine TB policy after Labour formed an administration alone following the 2011 assembly election.
A spokesperson said: "The budget for bovine TB research is jointly held between England and Wales and the Welsh government has a presence on all relevant project boards.
"We have not had a direct approach from Cardiff University on their call for Wales only research around bovine TB but would be more than happy to talk though the issues with them."
Previously, when Labour was in coalition with Plaid Cymru, a badger cull was planned because many blamed the animals for spreading the disease.
The National Farmers Union Cymru (NFU) supports a cull.
The area in north Pembrokeshire, which had been designated as a cull area, became a zone where badgers would be vaccinated.
Animals slaughtered
The five-year vaccination programme is now in its second year and backed by conservation group The Wildlife Trust.
The charity also supported calls for further research.
The number of animals slaughtered in Wales because of bovine TB rose from 8,068 in 2011 to 9,308 in 2012.
The Welsh government estimated more than £12.7m was paid to farmers in compensation in 2011.
There is a dispute over whether culling or vaccination is the best solution to the problem.
Farmers' leaders argue there is no need for more research because, they claim, badgers are responsible for spreading the disease.
NFU Cymru said scientific evidence showed reducing the number of badgers is the only way to eradicate bovine TB.
Sunday Politics Wales is on BBC One Wales, Sunday, 12 May at 11:00 BST