Anglesey council: Blow for Plaid Cymru in coalition talks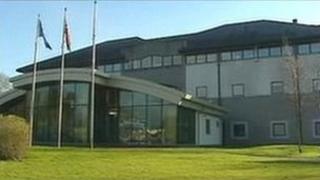 The leader of the Plaid Cymru group on Anglesey council says he is disappointed Labour and independents are discussing going into coalition.
Bob Parry says he understands the independents - who have 14 of 30 seats - are having talks with Labour, who have three councillors.
Plaid is the largest party group on the island, with 12 seats.
It said after last week's election that it hoped to form its own coalition with Labour.
"It is apparent that at the moment the independents and Labour are talking about forming a coalition," said Mr Parry.
"Naturally, I am disappointed."
He said his group had made offers to hold discussions with the Labour group, but talks have yet to take place.
BBC Wales understands that Arwel Roberts from Holyhead has been chosen as the leader of the Labour group, but by Tuesday its members had not had any discussions with the Plaid group on forming a coalition.
Independent councillors elected last week met on Tuesday, and said they will join forces to set up a new alliance, under the leadership of the Lligwy ward councillor, Ieuan Williams.
Such a deal is unlikely to be popular with the Welsh government, where ministers have indicated that they want to see a stable council run by political party groupings.
Anglesey was the only Welsh council to hold an election last week, after being delayed by a year.
It followed the appointment by the Welsh government of commissioners to run the council in 2011 after bitter splits between independent councillors. Some of those commissioners will remain in place until at least the end of this month.
In February, the then Local Government Minister Carl Sargeant said full control would be handed back to the authority only when a stable administration was in place.
"We will need to be convinced that there is no going back," he stressed.
"The council will need to continue to demonstrate that they can ensure: a sustainable recovery; continuing improvement; and a stable and effective administration following their election."