Dangerous dogs law change suspended by Welsh government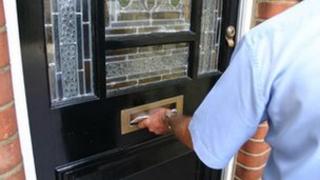 Planned legal changes to control dangerous dogs have been suspended by the Welsh government.
Ministers say they still want to create a new offence to punish the owners of dogs who attack people at home, but they will try to do it by working with the UK government.
Work to prepare legislation that would have gone through the Welsh assembly has been suspended.
The RSPCA said it was "deeply disappointed and saddened" by the move.
Existing laws cover only dog attacks in public or prohibited areas.
The Dangerous Dogs Act, passed in 1991, does not include attacks by dogs on private premises.
It only applies to public places, or private places where the dog is not meant to be. Allowing a dog to injure someone is punishable by up to two years in prison.
The Welsh government has pointed out the act does not, for example, protect postal workers if they are bitten when they make deliveries.
Proposals for a Control of Dogs (Wales) Bill would have widened the scope of the law so it applies anywhere in Wales.
A draft of the bill was unveiled last year and a consultation on it closed in March.
However, last month it emerged that the UK government has its own proposals which would also end the immunity for dog owners whose dogs attack people in their own home in England and Wales.
In a statement on Thursday, Wales' Natural Resources Minister Alun Davies said he would work with the UK government to "take forward our proposals on and England and Wales basis".
"In discussions with the Home Office and the Department for Environment, Food and Rural Affairs (Defra), it has become clear that there may be value in a joint collaborative approach," he said.
"I will continue discussions with the UK government with a view to considering whether early UK parliamentary legislation would be the best vehicle to take forward our proposals in a coherent way."
He added: "We will continue to work with Defra to ensure that their proposals to amend the Dangerous Dogs Act will include provision to make it an offence for dogs to be out of control on private premises and provide protection for assistance dogs."
Writing on Twitter, Labour AM Julie Morgan said it was disappointing.
RSPCA Cymru's Claire Lawson said: "We are not convinced that the Home Office's proposals will resolve these issues effectively and we remain concerned that they are insufficient and potentially harmful in terms of dog welfare.
"We will closely monitor the Welsh government's future proposals on this matter and continue to campaign for more robust animal welfare solutions."
Dilwar Ali, whose six-year-old son Erfan was attacked by a neighbour's dog in Cardiff, said he welcomed the UK government's decision to extend the law, but added: "I wonder how long we will have to wait for that change to be brought into force across England and Wales."
Mr Ali urged the Welsh government to "tackle the irresponsible care and control of dogs".
Communication Workers Union general secretary Billy Hayes said: "This is deeply disappointing. Wales was set to get top pedigree dogs laws and has been apparently forced into a u-turn in favour of Westminster's runt of the litter."
However there had been concern from the Kennel Club that changing in the law could mean dog owners are prosecuted if their dogs attack burglars in the home.
Kennel Club secretary Caroline Kisko said: "We recognise and fully support the benefits of UK-wide legislation to aid with continuity and to further public understanding and compliance."
Work on the bill has been suspended, but Mr Davies said it could be revived if he cannot get an agreement with the UK government.
The bill could have led to dog owners attending training sessions if they lose control of their pets.
The legislation would also have forced the owners of out of control dogs to register with local councils and only allow the dog out in public wearing a muzzle.