Baroness Thatcher: A 'decisive' leader says Simon Weston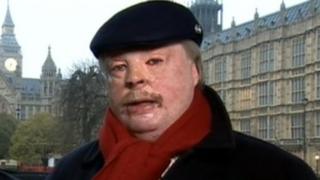 Falklands War veteran Simon Weston has paid tribute to Baroness Thatcher saying she was a "decisive" leader who gave Britain something to be proud of.
She sent a naval task force to retake the Falklands islands in 1982, which had been invaded by Argentina.
Ex-Welsh Guardsman Mr Weston was badly burned when the Sir Galahad troop ship was destroyed.
He also said she was proved right over the miners' strike, but said it was sad to see people losing their livelihoods.
Mr Weston suffered 46% burns on his body and underwent 70 separate major operations or surgical procedures during a slow recovery.
Speaking on BBC Breakfast, he said the world was going to be "a sadder place" without Baroness Thatcher.
About the Falklands conflict, he said: "She had to respond to a threat to British subjects and people who voted to be British then, and have now just recently voted again, to try and tell everybody they have the right for freedom, they have their right to a democratic view, to self determination.
"What they (Argentineans) did in '82 was reprehensible but she responded in the correct way, she responded decisively and swiftly and we were able to come out slightly better off than the Argentineans."
He added: "She changed the face of Great Britain, she gave us something to be proud of and I know there'll be people who will disagree with that, but the fact was wherever she went she was revered, feared and if you didn't like her you still respected her because of the way she conducted it."
Mr Weston also praised Baroness Thatcher's skills as a leader.
"If you think, over the last 20 years we've been shepherded and ushered, we've not been led and we had a leader then and she was a great leader and the world is going to be a sadder place without her," he added.
Another of Baroness Thatcher's battles involved the National Union of Mineworkers during the national strike of 1984-85.
Mr Weston, who was brought up in the Rhymney Valley, said the industrial action tore families apart, but ultimately the former prime minister had been proved right.
"It wasn't a very nice time at all," he said.
'Very confrontational'
"But we have to say the leadership of the NUM at the time was largely responsible for a lot of the aggression, but the fact was that it could have been done more sympathetically.
"People are just people and they needed support and they needed to be reassured and there wasn't a huge amount of that because both sides were very, very confrontational, and an awful lot of people lost an awful lot during that period of time.
"I even went on one or two of the picket lines - not the aggressive ones - with some of my friends who were miners and it was a sad, sad time to see people losing their livelihoods, but ultimately Mrs Thatcher has been proven right and she will continue to be proven right.
"She didn't make too many wrong steps it's got to be said."