Wales PCS Revenue and Customs staff join strike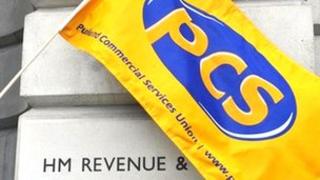 A union's rolling programme of protests over pay, jobs and terms and conditions is continuing as HM Revenue and Customs staff in Wales go on strike.
Public and Commercial Services (PCS) says its "long weekend" includes 20,000 workers in Wales, which began with a half-day stoppage on Friday.
The walkout hit courts, driving test and job centres, the DVLA, the Passport Office and the Welsh government.
The Home Office says it has contingency plans in place for Monday's strike.
The protest is part of a three-month campaign of industrial action across the UK by the union which started with a strike on the day of the Budget.
PCS Wales secretary Shavanah Taj said the actions sent the message that her members demanded to be treated with respect.
She said: "Our members work hard to deliver high-quality public services but they're feeling increasingly insecure and demoralised, as the UK government cuts thousands of jobs, holds down their pay and tears up their long-established terms and conditions.
"All we are asking is that the government talk to us so that we can begin to address these concerns, but so far they have refused."
After the walkout on Friday, Cabinet Office minister Francis Maude said the government's contingency plans had "worked well," with only 10% of civil service staff heeding the union's call.
Firefighters' protest
He said: "Talk of further strike action is disappointing - now is the time for us all to work together to ensure we can deliver exceptional public services, support growth and build the economy."
Meanwhile, the Fire Brigades' Union (FBU) is to stage an unrelated protest outside Llanelli fire station over the introduction of new shift patterns.
The FBU is opposed to the change and says it fears it could breach the European Union's working time directive on rest periods.
However, the fire service has said firefighters working at Llanelli are "all very much looking forward" to working the new shift pattern.