Ken Skates AM calls for local TV bids to be scrapped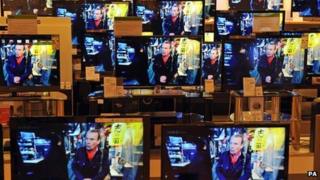 UK government plans for local TV stations should be scrapped in Wales and the money spent on other parts of the media, an AM says.
Ken Skates made the call as media regulator Ofcom seeks expressions of interest to run two local TV stations in north Wales.
It is also re-advertising a local TV licence for Swansea after it failed to attract any bids.
The UK government said local TV would transform the industry and create jobs.
Opportunities to launch local TV stations in Bangor and Mold are being offered.
The two locations are among 30 places around the UK where Ofcom is seeking expressions of interest to run stations.
'Fresh way'
The Swansea licence was offered in a previous round of the scheme, but failed to attract any bids.
Made TV Ltd has been unveiled as the winning bidder to run the new local station in Cardiff.
However, Mr Skates, who led a cross-party inquiry into the media industry in Wales, said funds should pay for journalism apprenticeships instead.
The Labour AM for Clwyd South said: "The farce over the Swansea licence, which produced no bidders at all first time round, highlights the problem with the core idea.
"If nobody thinks a station can be commercially viable in a large urban area such as Swansea, how can it then be a viable success in Bangor or Mold?"
A spokesman for the Department for Culture, Media and Sport said: "Local TV will transform the media industry in the UK, creating new jobs and opportunities while providing people with a fresh way to be informed about their local community.
"The awarding of the initial round licences to run local TV stations saw 57 bidders competing to run 19 town and city-based TV channels.
"Ofcom are currently in the process of offering a second group of local TV licences."