Drink drive AM Bethan Jenkins misses assembly censure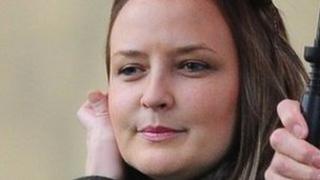 A Welsh assembly member has been formally reprimanded for bringing the assembly into disrepute following her arrest for drink driving.
AMs unanimously endorsed a report to censure Plaid Cymru member Bethan Jenkins over the incident last October.
Political opponents criticised her for staying away and not apologising to the assembly chamber in person.
Instead Miss Jenkins was in London on a protest by former Visteon car parts workers who have lost their pensions.
The South West Wales AM was stopped and arrested in the early hours by police in Cardiff last October. She was found to be over twice the legal drink-drive limit.
'Disrespectful'
The 31-year-old was banned from driving for 20 months after pleading guilty before Cardiff magistrates last December.
Afterwards, she said she was "deeply sorry" and was coming to terms with depression.
A report by the assembly's cross-party standards committee found she brought the institution into disrepute.
Its recommendation that she be censured was endorsed in the Senedd chamber on Wednesday.
Presiding Officer Rosemary Butler said attending assembly business was a matter for individual AMs, but added: "I would always expect it to be your top priority and I'm sure Bethan Jenkins will wish to reflect on the record of today's debate."
Liberal Democrat AM Peter Black said Miss Jenkins' absence was "disrespectful".
The last time a similar motion was carried - against Labour AM Keith Davies - the member concerned apologised to the chamber in person, Mr Black said.
Plaid AM Jocelyn Davies, her party's chief whip, said Miss Jenkins had informed her she would be in London.
She said that if AMs wanted to wait until Miss Jenkins was present "we would certainly support a delay so that she can be here and I know that Bethan would support that also".
A Conservative spokesman said: "Bethan Jenkins should front up to the assembly and face the music like any responsible politician."
Writing on Twitter, Miss Jenkins said she had told the chair of the standards committee and her party's chief whip months ago that she would be absent.
She said she had apologised many times to the public and her constituents, but that "700 people from my area needed me in London today".
Assembly rules mean AMs can only be suspended for breaching standards of conduct in relation to financial or other interests. Miss Jenkins' breach was in relation to personal conduct.
The standards committee is separately considering the issue of sanctions as part of an on-going review.
Miss Jenkins was also investigated for an expenses claim to pay for making an educational DVD that was never produced.
The film company involved has since repaid the money to the assembly and the standards committee found that although the AMs' code of conduct had been breached, no further action should be taken.