GCSEs: Andrews says 'jury out' on three-country exams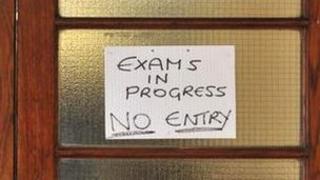 Wales' education minister says the "jury is out" on the qualifications system that Wales shares with England and Northern Ireland.
Leighton Andrews was giving evidence to MPs about a row that erupted in the wake of 2012's GCSE English results.
Mr Andrews ordered that papers be regraded and he has since set a new Wales-only grading system for the subject to avoid a repeat of the row.
But the head of Wales' biggest exam board said standards should be shared.
Appearing before the Commons Education Committee, Mr Andrews defended his decision to order a regrade of last year's GCSE English language.
It led to the exams of around 2,300 Welsh pupils being regraded by the WJEC exam board.
'Unfairness'
Mr Andrews told MPs on Tuesday that his action was "appropriate" and intended to address an "unfairness" in the way grade boundaries were set.
England's exam regulator Ofqual declined to take similar action and the Welsh decision was criticised by UK Education Secretary Michael Gove.
Last month the High Court rejected a legal attempt by teaching unions and councils to overturn grades awarded in England.
Mr Andrews said the 2012 episode was "unhappy all round". He told MPs that he and Mr Gove had not met since June 2010.
Last month, Mr Andrews said that in future Wales would use its own grading system for the subject.
It means the thresholds between grades will no longer be agreed with England and Northern Ireland, while Scotland has its own qualifications systems.
It could mean the grades awarded to pupils sitting GCSEs in Wales will not necessarily be comparable to those sat in England and Northern Ireland.
Mr Andrews told the committee: "I think the jury's out on three-country qualifications."
However, MPs also heard from WJEC chief executive Gareth Pierce, who called for "shared standards" in the exams sat across the three countries.
It was "not tenable" to have different standards for the same qualification, he said.