Severn barrage: Pre-election consent not likely - Barker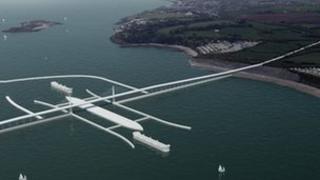 A UK energy minister has played down the prospect of the proposed £30bn Severn barrage getting the go-ahead.
Greg Barker dismissed claims that a law to secure the barrage could be passed before the next general election.
He said the company behind the scheme, from the Vale of Glamorgan to Somerset, must provide more information before the UK government could support it.
Hafren Power said it had submitted a 150-page business case and that it was disappointed by the criticism.
The barrage would be constructed over 18km (11 miles) between Lavernock Point and Weston-super-Mare.
Backers say it would mean jobs and help tackle climate change, but opponents say it would harm the environment.
Objectors also say it would endanger wildlife and that the costs outweigh the benefits.
Mr Barker was giving evidence to MPs on the Energy and Climate Change Committee.
One committee member, Labour MP John Robertson, said the amount of information provided by Hafren Power, the company behind the Severn barrage proposal, was "embarrassing".
He told the minister: "I'm surprised you haven't just thrown it out completely".
Mr Barker agreed with the committee chair, Conservative MP Tim Yeo, that "some pretty big questions remain insufficiently answered".
Mr Yeo said it would be in Hafren Power's interests to be more transparent about what it was proposing.
Mr Barker said it had presented his department with an outline proposal case but he said ministers were not sitting on a great deal of information. He held up Hafren Power's executive summary which ran to only a few pages of A4 paper.
He said the proposed Severn barrage could be a very significant asset for the UK.
'Listening mode'
"However, the information that the department has seen so far doesn't allow us to assess if the proposal is credible, nor if it could actually stand a chance of achieving the benefits Hafren Power claims the scheme would achieve," he said.
"There are a number of issues that Hafren Power would need to explore in much greater detail before we could take a view as to whether their proposal warrants further interest from government."
He said Hafren Power needed to show that the project would tackle environmental challenges, work to mitigate the negative impact on the local economy such as Bristol Port and - most importantly - provide evidence the project is affordable and represents good value for electricity consumers.
The company had yet to provide details on the design of turbines which meant the government could not have a view on the scheme's ecological impact or its cost.
Mr Barker also played down suggestions that a meeting with Prime Minister David Cameron last year suggested there was momentum behind the project.
He said that view may rely on a partial account of the meeting, where Mr Cameron was "very much in listening mode".
He said Hafren Power's evidence was not sufficiently compelling, but the government had left the door open for that to change.
A form of legislation known as a hybrid bill would be needed before the scheme can go ahead.
'Confusion and division'
Asked if it was realistic to suggest a bill could pass before the next general election in 2015, the minister said: "Not at all."
Neath MP Peter Hain, who is campaigning for the barrage, said later: 'If we're now unlikely to see the hybrid bill required for the Severn barrage in this parliament that will mean two more years delay for a gigantic £25bn investment creating 50,000 desperately needed jobs.
"Sadly, confusion and division in government now means we're working to a longer timescale."
Mr Hain, a former Welsh Secretary, said the minister's "curious statement" was at variance with constructive meetings he had had with other ministers, including David Cameron.
A spokesman for Hafren Power said: "We are pleased to see the Department of Energy is keeping an open mind on the project, but disappointed at the criticism of lack of detail when it has, for example, a new 150-page business case from us.
"However, we'll keep working with the government to supply answers and secure support to proceed."