Alun Cairns MP wants code of conduct on nuisance calls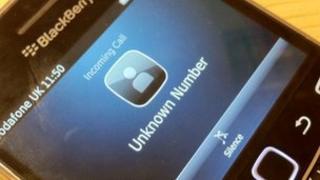 Making businesses apply for permission to withhold their phone numbers could help stop nuisance calls, a Conservative MP has suggested.
Vale of Glamorgan MP Alun Cairns said companies should agree to a new code of conduct.
It follows a big increase in complaints about unwanted marketing calls.
Communications watchdog Ofcom, which deals with silent and abandoned calls, had 9,803 complaints in December 2012, compared to 3,212 a year earlier.
Other types of nuisance business calls - such as unsolicited telesales calls and recorded marketing messages - are handled by the Information Commissioner's Office (ICO).
Mr Cairns said regulations governing such calls were complicated and that consideration should be given to a new system whereby Ofcom's permission is required for withheld numbers.
Withheld numbers cannot be blocked unless people "endure the marketing pitch in order to identify the originator - clearly something that is undesirable", Mr Cairns said.
"Contact centres have now abused the protection that was intended for the greater good," he said.
"I suppose it could be compared to someone knocking your door wearing a mask or balaclava.
"Would we answer the door to such an unknown caller? Of course we wouldn't. Then why do we allow it over the phone?"
During a debate in parliament on Thursday, Mr Cairns will cite figures showing 47% of people had a silent call in 2012.
Silent calls are caused by automated systems that dial numbers even when call centre operators are not available.
'Distress and anxiety'
Ofcom said it monitored a six-month period last year when 71% of people with a landline had a marketing phone call and 63% had a recorded message.
A spokeswoman said its advice to consumers was the most visited part of its website.
"It just shows the increase in the amount of distress and anxiety that it causes consumers," she said.
Research by consumer group Which? found signing up to the free Telephone Preference Service (TPS) cuts cold calls by a third.
Registering a phone number with TPS means it is illegal for organisations to make unsolicited calls to it.
However, it does not stop calls from overseas-based companies or when people consent to their details being used for marketing purposes.