Call for Carwyn Jones to intervene on hospital changes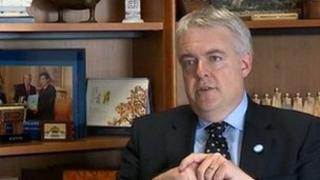 Political opponents have called on Carwyn Jones to intervene and stop controversial NHS reforms.
The first minister said Welsh government ministers were legally unable to comment on local reorganisation plans.
He repeated his ambition to see a "safe and sustainable" NHS.
However, he added the Welsh government would eventually have to look at the extent to which the NHS relies on services based in England.
The calls came on the day the health watchdog for mid and west Wales referred controversial planned changes by Hywel Dda Health Board to Health Minister Lesley Griffiths for a final decision.
Local health boards have been drawing up plans to change the way services are delivered. Some could involve people having to travel further for treatment.
Changes being planned by Betsi Cadwaladr Health Board would mean babies from north Wales have to go to a hospital in the north-west of England if they need specialist intensive care.
At question time in the Senedd on Tuesday, Plaid Cymru leader Leanne Wood said health professionals, politicians and the public opposed the removal of high level neonatal care from north Wales.
'Over-reliant'
It would result in Welsh government funding being spent on the English NHS, something "which cannot be a decision for the local health board alone", she said.
Mr Jones said Ms Wood had raised a point that needed to be considered.
"That is should we be over-reliant in future - and this is a general point I make - on a health service in England that's being wrecked and privatised?" he said.
"I think that is a fair point and one which will need to be considered in its entirety when we consider the future direction of the health service in Wales as a whole."
He said ministers could not comment publicly on specific proposals while they were on the health minister's desk.
"All relevant factors will be taken into account bearing in mind that what we all want to see is a safe and sustainable health service," he added.
Conservative group leader Andrew RT Davies asked whether the Welsh government would intervene "to support the professionals" and retain services in north Wales.
Mr Jones replied that the Welsh government would examine proposals "exceptionally carefully and in great detail".
Welsh Liberal Democrat leader Kirsty Williams said she had met constituents with complaints about the NHS, including patients having to change their own bed sheets after being sick.
Mr Jones said the Welsh government would be "more than happy" to investigate cases, but accused Mrs Williams of making allegations that were not backed up by evidence.