Parents offered 'transparent' schools performance data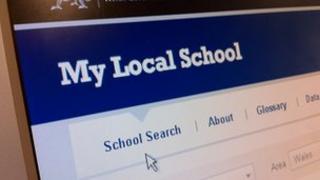 Parents in Wales can find out how well their children's schools are performing through a new website.
The My Local School site contains information about all state secondary and primary schools in Wales.
The website includes information on pupils' attainment in exams, attendance rates and school budgets.
The Welsh government said it wants more transparency, but a teaching union said comparing schools that face different challenges "doesn't make sense".
The website also includes links to inspection reports and shows how much money schools spend per pupil.
Since last year the Welsh government has ranked secondary schools into five bands which take account of factors such as GCSE results, attendance and the number of children who have free school dinners.
However, it has stopped short of re-introducing league tables which were scrapped in Wales in 2001.
Despite assurances that banding is not meant to name and shame poor performers, teaching unions have opposed the policy and called for the abolition of plans to introduce bands for primary schools.
'Transparency'
The new website shows how well schools are doing compared to others in their area and the rest of Wales.
Education Minister Leighton Andrews said: "Data of this kind is becoming more readily available.
"The site gives parents a clearer picture of how schools across Wales are performing.
"Improving openness and transparency of school statistics will also allow parents to have more informed discussions about raising standards in our schools.
"We want to encourage parents to engage in the school improvement debate and so we are providing them with the information to do so."
The NUT Cymru teaching union asked why the government was persisting with banding if all the information used to compile the bands was being made publicly available through the new website.
Policy officer Owen Hathway said: "We are very supportive of parents having the information they need about their children's school.
"Accountability is hugely important.
"What doesn't make sense is comparing two schools, often with completely different social, economic and geographical challenges.
"Surely the introduction of this portal project calls into question the necessity of the banding system."