No 10 trip earns Welsh Secretary "Jones the Jag" tag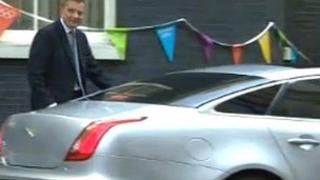 Among politicians, there are few more enthusiastic users of public transport than David Jones. The Welsh Secretary's regular tweets during his many rail journeys between his north Wales constituency, Cardiff and Westminster have developed a cult following on twitter.
He has been part of a government clampdown on first-class travel and uses a senior railcard to save the taxpayer money.
So it's unfortunate that he may be about to become better known for using a less environmentally-friendly form of travel.
The Daily Telegraph has photographed Mr Jones emerging from a chauffeur-driven Jaguar after a journey of no more than 100 metres between the Wales Office in Whitehall and a cabinet meeting in Downing Street, which is just over the road from Gwydyr House.
A Wales Office spokesperson said: "The Secretary of State for Wales, Mr David Jones, did travel by car to Cabinet today as he was reading Cabinet papers and briefing until his arrival at Downing Street."
It's rather embarrassing for a government committed to cutting the cost of ministerial travel and evokes memories of John Prescott's infamous decision to let the car take the strain on a short journey between his hotel and the 1999 Labour conference in Bournemouth: except the man known as "Two Jags" did travel more than twice as far - 250 metres.
The Daily Mail's website has added to Mr Jones's embarrassment with a helpful map of the area.
Mr Jones's Labour shadow, Owen Smith, spotted an easy target. He said: "We like giving people a nickname in Wales: Evans the Milk, Dai the Pop...and now we've got Jones the Jag as our Secretary of State.
"Still, he's been so inactive since he got the job and made so few public appearances that perhaps he can be forgiven for taking every chance to try out the ministerial limo. Taxpayers in Clwyd West, however, or the 5,500 people getting their tax credits cut might not all be so forgiving about his 100 yard joyride."
I rather suspect Mr Jones will walk to next week's cabinet meeting.