Violence Against Women Action Group: Help 'lottery' for abuse victims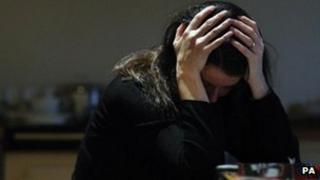 Female victims of violence face a "postcode lottery" in the services available to them, campaigners have said.
The Violence Against Women Action Group say there is an "urgent" need for highly specialised services to help women rebuild their lives.
They will meet the Welsh government's Communities Minister Carl Sargeant later to call for this to be addressed.
It comes ahead of a white paper on a bill to tackle domestic abuse.
The group produced a report which wants to see a reduction in all forms of violence against women, not just domestic abuse inflicted by a partner.
"There is also a postcode lottery of service provision for women in Wales, leading to a situation where the availability of support depends upon the woman's location, and posing particular problems for women in rural Wales," the report says.
It also complains about a "meagre provision" of services for black and minority ethnic women.
'Good progress'
The campaign estimates that over the next year 50,769 women in Wales will suffer 203,075 incidents of domestic abuse, but there will only be 3,385 successful convictions.
Naomi Brightmore, chair of the Wales Violence Against Women Action Group, said: "The Welsh government has made some good progress at policy level on tackling violence against women in Wales in recent years, and this new legislation is an excellent opportunity to make a concrete difference to the lives of women and children affected by violence and abuse."
Mr Sargeant's department is drawing up legislation that would put new duties on public bodies to have an anti-domestic abuse strategy.
Although criminal law is not devolved, Welsh government sources have spoken of the need to improve the sometimes "patchy" services available to help abuse victims.
Mr Sargeant said the Welsh government was committed to ending violence against women and domestic abuse.
"Stakeholders and service users were involved in engagement events across Wales, to which members of the Wales Violence Against Women Action Group made a valuable contribution," he said.
"The views of all stakeholders, as well as a comprehensive report from an expert task and finish group, has helped inform the development of the white paper."