Labour highlight cost of bilingual ballot papers row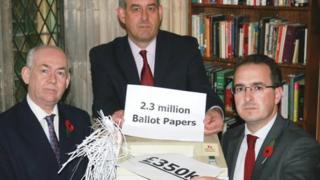 The debates may be over, but the arguments continue. MPs will tonight rubber-stamp a change in the law to ensure Welsh voters receive bilingual ballot papers in next month's elections for police and crime commissioners.
The delay comes at a price - the cost is up to £350,000. It also means that more than two million ballot papers will need to be destroyed.
Labour have issued their own publicity photo to make a point about waste. It probably doesn't need a caption but the three MPs are - from left to right - Wayne David (constitutional affairs spokesman), David Hanson (policing spokesman) and Shadow Welsh Secretary Owen Smith.
Just one thing: shouldn't the writing on the paper appear in both languages? I hesitate to let the facts get in the way of a half-decent joke but Labour fairly point out that it is only the English ballot papers that will be "disposed of securely".