What do new recycling rules mean for you and your council?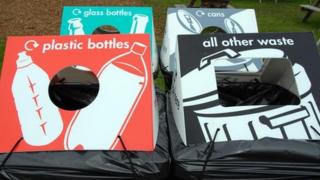 An EU directive could mean we are all forced to sort out our recycling before it is collected.
Some councils allow people to throw all recyclable waste in one bag or wheelie bin before taking it away to separates the material.
Toby Mason, from BBC Wales political unit, explains what lies behind the changes and what it will mean for you.
How likely is it that councils which operate a mixed single bag (or co-mingled) recycling system will have to change?
At this stage, very likely. The European Commission has issued a directive which is binding on member states and local authorities within them that they must move to separate kerbside sorting methods - which are already in place in several council areas in Wales such as Newport, Bridgend and Gwynedd.
Councils operating co-mingled systems, such as Cardiff, Ceredigion and Monmouthshire, could face severe consequences if they were deemed to have breached the EU directive by continuing their current system beyond its start date.
When is that start date?
The directive says the separate collection policy must be in place by 1 January 2015. This means that a huge amount of preparation will be needed if councils which currently operate co-mingled collections are to put the necessary infrastructure in place to implement separate collections.
What happens if they are found to have breached the directive?
The EU could fine both the member state and potentially the council. Groups such as the Campaign for Real Recycling could also take court action against those councils independently to try and prove they are breaking the law. In addition, the Welsh government says that it would be unable to pay any waste management grants to councils who are deemed not to be complying with the EU directive - which would be a big financial hit.
Are there any ways around the new rules for councils?
At present, there are two potential clauses which councils could look to if they wanted to continue the current system. The directive says that they could continue mixed collections if they can prove that it is technically, economically or environmentally impractical to move to a separate collection system, or that the output from the co-mingled system is of a similar quality to that from a separate collections.
Experts say Welsh councils would struggle to make this argument, since many of them already operate successful separate collection systems, which would seem to negate the first clause, while they say that the quality of material produced from co-mingled collections is of a demonstrably lower quality than from single collections.
Why have the new rules been brought in?
The Commission is keen to raise the quality of the the material which is sent for recycling. Although many councils have invested millions in what are called Materials Recovery Facilities or MRFs - which are designed to sort the co-mingled waste into different batches of plastics, glass, cans, paper and so on in order for it to be sent on to be recycled.
There is huge pressure from recycling companies to stop this and move to separate collections. They warn the output from this (called "feedstock" in the industry) is sometimes of an inferior quality, meaning that it cannot be recycled anywhere in the EU and either ends up being exported elsewhere in the world or sent to landfill.
Where does the Welsh government stand on this?
Environment Minister John Griffiths has set clear and stretching targets for councils on how much they should recycle: 70% of waste by 2025. They have a long standing policy in favour of kerbside collections, but have chosen not to impose this on all 22 councils, preferring to let them decide.
However, the EU directive may well mean that by 2015 this will happen by default. The Welsh Local Government Association's policy is that since councils have the responsibility for meeting the targets, they should also have the responsibility for deciding which system they wish to operate.
How much could it cost councils if they have to change?
There's no financial estimate at this stage, but the costs of new equipment and processes could be substantial. Those councils which have spent millions on MRFs would also see that investment rendered redundant.
One option being canvassed within local government is that some councils could try for an opt-out from the start date of 2015 on the grounds of how much it would cost to end existing long-term contracts early - but this would have to be approved by the Commission - and could end up being tested in court.