Welsh First Minister Carwyn Jones says England lacks voice on UK future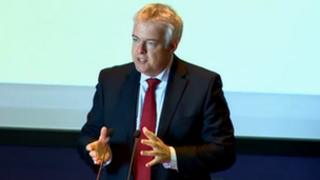 England should have its own voice in the UK, Carwyn Jones has said.
The first minister was giving evidence to MPs on whether there should be a convention, or debate, on the future of the constitution of the UK.
He believes it would allow England to contribute to the debate as Scotland prepares to vote on leaving the UK.
Giving a new push to his call for a convention, the Welsh Labour leader said he wanted to "preserve" the UK but it must "adapt" to devolution.
"We have got to the point where England doesn't have it's own voice, there's no question about that," he told the House of Commons Political and Constitutional Reform Committee.
'Clarity'
"I think it's perfectly plausible, certainly from my point of view, for people to understand that on some issues the prime minister speaks for England. We understand that.
"But we can't carry on, to my mind, with a constitution where there's a complete lack of clarity.
"We can't carry on, to my mind, with a constitution that says that the UK parliament could, if it wished, abolish the devolved administrations in a matter of months.
"That clearly is not right in terms of democracy. It sits very ill with us here in Wales as it does with Scotland."
He added: "I do think that as the debate rages in Scotland over the next two years there is a danger that there will be a rising tide of opinion in England that will ask for a resolution of what is seen as the English question."
MPs were taking evidence at the Welsh assembly in Cardiff Bay on Thursday.
Later, Mr Jones will travel to London to repeat his call for a convention in a speech at the House of Commons.
A convention should get underway before Scotland votes on independence in 2014 so the Scottish people know what alternatives are available, he said.
'Fear'
"My greatest fear is that we will see the UK start to lose some members," he said.
Meanwhile, Plaid Cymru leader Leanne Wood wrote to him to say she is interesting in taking part in a convention.
But she says it is not possible before Scotland votes on independence.
Her offer comes in the week Plaid sided with the other opposition parties in the Welsh assembly to table a motion of no-confidence in Labour's Health Minister Lesley Griffiths.
The committee also heard from the Conservatives' assembly leader, Andrew RT Davies, who opposes the idea.
He said: "I actually feel that the tools are here to do the job. What people are crying out for is their politicians to get on and do the job."