Welsh government £3.5bn spending plans repackaging row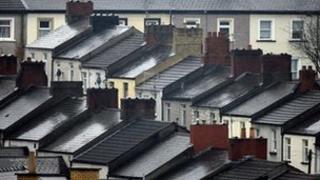 Details of housing, health, transport and road schemes worth a combined £3.5bn have been unveiled by the Welsh government, but opponents claim there is little new on offer.
Ministers say their three-year infrastructure plan contained schemes that could help the economy grow.
Others are listed as priorities for the following 10 years, with the approach described as ambitious but prudent.
Opposition parties accused ministers of repackaging old announcements.
There is a proposal to attract money from pension funds and other investors to pay for the plans and make up for public spending cuts.
The Welsh government said its Infrastructure Investment Plan for Growth and Jobs gave a clear outline of major projects and "innovative financing options" to pay for them.
The plan explains how the devolved administration will spend its capital budget - the money that pays for buildings and public works, rather than revenue funding for day-to-day services.
In real terms, capital funding for Wales in 2014/15 will be half what it was at its peak in 2009/10 because of the UK government's plan to tackle the deficit.
Welsh Labour says the austerity drive is eating into public spending too quickly and too deeply.
In its plans, the Welsh government says it will look to "institutional investors, particularly pension funds, and the European Investment Bank".
Funding for 15 out of 22 projects for the health service is listed as being "subject to capital availability".
They include £30m for the ambulance service, £49m for Llandudno hospital and £63m to redevelop Morriston hospital in Swansea.
'Strong economic case'
Finance Minister Jane Hutt accepted a number of projects had already been announced or are already underway.
But she stressed the plan was also designed to raise new money, potentially more than £1bn to cope with a 40% cut in the capital budget.
New sources of finance could involve specially-designed companies to borrow the money needed for specific projects.
She told the Senedd that direct government investment was her preferred means of funding projects, but there was a "strong economic case" to seek other sources of money where the benefits outweighed additional costs.
The Welsh government remains sceptical about using private finance initiative, which successive administrations have shunned as a way to raise funds.
Ms Hutt is pressing the Treasury to give the Welsh government the power to borrow money.
She pointed to a 22-year commitment from the Welsh government to help councils borrow money for roads maintenance.
"We are being ambitious, but we are being prudent," she said.
She added: "For the first time we are giving the private sector, public sector and third sector a clear vision of our priorities over the next 10 years."
Plaid Cymru AM Ieuan Wyn Jones, the former economy and transport minister, said: "I can't see many schemes that are absolutely new there."
He said Ms Hutt had listed the existing plans of each government department, "and what she intends to do is deliver those schemes that have been in the pipeline for many years".
Liberal Democrats said the government was "repackaging" old announcements.
Welsh Lib Dem AM Peter Black said: "This is not a proper vision for growth and our economy."
However Mr Black welcomed an announcement on a mortgage guarantee scheme for first-time buyers, agreed with the Lib Dems as part of budget negotiations.