Unemployment drops 1,000 in Wales in first quarter of 2012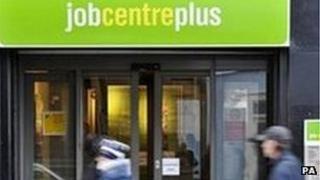 Unemployment in Wales fell by 1,000 in the first three months of the year.
Official figures for January to March showed 132,000 people out of work, with the unemployment rate at 9%, down 0.1% on the previous quarter.
But unemployment continues to rise among women, with some 8,000 losing jobs in this period, compared to a reduction of 9,000 in unemployed men.
Across the UK the total fell 45,000 to 2.63m and the number of dole claimants dipped for a second month in a row.
There were 79,500 jobseeker's allowance claimants in Wales in April, 300 fewer than in March.
The female unemployment rate climbed 2% in the preceding year to 8.3%. For men it rose at a much slower 0.6% to 9.6%.
The number of men and women in work fell by 3,000 to 1.34m in the three months to March.
A Welsh government spokesman said there were encouraging signs, such as the fall in the claimant count.
He said: "Wales is not immune to the continuing uncertainty in the eurozone and global economy.
"We are doing all we can to create the conditions necessary to create more jobs, boost economic growth and increase confidence in the Welsh economy."
Plaid Cymru called for government spending on roads, schools, hospitals and housing as a way to create jobs.
'Returned to recession'
Plaid MP Jonathan Edwards said: "While it is welcome news that both UK and Welsh unemployment figures are slightly down we must not forget that the UK has just returned to recession and the government is still failing to address the fundamental causes of economic inactivity".
The Welsh government will reveal the infrastructure schemes it is intending to fund when it publishes a three-year investment plan next week. It will also look ahead to its priorities for the next decade.
Ministers have trailed the announcement as evidence of their determination to grow the economy, but the £3.5bn plan will be entirely funded by Wales' annual block grant.
The Welsh government says it is looking at new ways to pay for projects, including helping councils borrow money to maintain roads, following a 42% cut in its capital budget from the Treasury.
Robert Lloyd Griffiths, director of the Institute of Directors in Wales, said: "It's good news that headline unemployment measures are down across the UK, but the Welsh unemployment figure remains static at 9%.
"That's already considerably higher than the UK average and it's a concern."
Speaking from Thailand, where she is on a five-day trade and investment visit, Welsh Secretary Cheryl Gillan said unemployment was "unacceptably high".
"I am pleased that unemployment levels have once again decreased, although I am also mindful that the economic uncertainties present elsewhere in Europe may also have an impact on the recovery of the economy here in the UK," she said.