Talks underway in county halls after Labour election success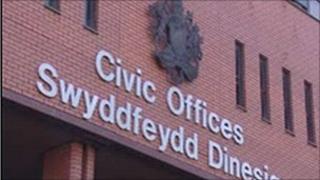 The political leadership of local government in Wales is taking shape after last week's council elections.
Labour made sweeping gains, putting it in charge of 10 authorities and in the driving seat in another four where no-one has overall control.
Its rivals are counting the cost after losing seats and the leadership of councils.
Elections took place in 21 councils - all except Anglesey where voters go to the polls next year.
Labour dislodged the Liberal Democrats to win Cardiff and Swansea councils.
Welsh Lib Dem leader Kirsty Williams said her party's poor performance could largely be attributed to the unpopularity of the UK government.
"But the Welsh party shouldn't say 'Oh its all London's fault'. That would be missing a trick," she said.
"I think we need to have a proper analysis of what went on last week because there's no consistency to those results.
"If it was all about London we'd have been wiped out."
Labour councillors in the Vale of Glamorgan face a decision between trying to form a coalition with another party or going it alone in a minority administration.
Group leader Neil Moore said the question would be settled in time for the council's annual general meeting on 23 May.
With 22 out of 47 seats, Labour overtook the Conservatives to become the biggest party, but fell just short of overall control in the Vale of Glamorgan. The Tories lost 14 councillors and their leader lost his seat to an independent.
Mr Moore said the result was due to a combination of local and national factors.
'Transparent'
"I think we put down pledges which meant that we listen to people. We promised to be open and above board and transparent," he said.
"The other thing of course is the appalling record of the Lib Dem and Tory government in Westminster - that's obviously had an effect. They seem to be totally out of touch with people."
The Conservatives' assembly leader Andrew RT Davies said the UK government needs to "get a grip" and communicate its message effectively with the public.
He said David Cameron remained the right man to lead the Tories into the next general election.
Mr Davies, whose party also lost overall control of Monmouthshire, said the Tories still had their second highest number of councillors in Wales since local government reorganisation in 1996.
Labour won control of Caerphilly from Plaid Cymru - one of a number of Labour strongholds in the south Wales valleys where it bounced back from a drubbing at the previous local elections in 2008.
Plaid AM Simon Thomas said his party should not expect overnight success under its new leader Leanne Wood, adding that voters had opted for the "comfort blanket" of Labour.
'Rebuild'
"The party has to reorganise, regroup and rebuild under the new leader," he said.
During the election campaign Plaid played down expectations of a poll bounce under Ms Wood, saying the elections came too early in her tenure to be seen as a verdict on her.
The party also lost control of Gwynedd, where it is one seat short of a majority. The council's political make-up will be settled in a by-election for the Bryncrug/Llanfihangel ward where there were no candidates.
Plaid is the biggest party in Carmarthenshire where discussions are underway about running the council. Labour won 12 more seats in the county, putting it level with the independents on 23.
Independents retained a majority of seats in neighbouring Pembrokeshire. The council leader will be chosen at the AGM on 24 May.
The first post-election meeting of the Welsh Local Government Association takes place on 25 May.