Nick Clegg urged by Lembit Opik to quit as Lib Dem leader to focus on deputy PM job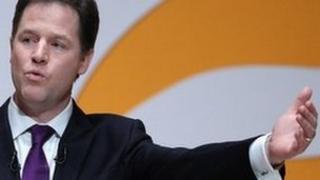 Former Welsh Liberal Democrat leader Lembit Opik wants Nick Clegg to stand down as the head of the party to focus on being deputy prime minister.
His comments follow a poor showing for the Lib Dems in Thursday's local elections across the UK.
The former Montgomeryshire MP said his party could not recover and rebuild if Mr Clegg held both positions.
But other senior party figures said more leaders would not be the solution for the Lib Dems.
Mr Opik told BBC Radio Wales' Sunday Supplement programme: "I'm not having a go at Clegg.
'Tough decisions'
"I just say there is no way the party can recover as long as those two jobs are tied and we cannot differentiate.
"Clegg, I think, is doing a pretty good job in government. But it is marred by the fact that he is not doing a good job in the Lib Dems as leader - because he can't, you can't do those two full-time jobs at once and get away with it."
The Welsh Lib Dems lost control of both Cardiff and Swansea councils in the local elections, losing 66 council seats across Wales.
Mr Opik, who lost his parliamentary seat two years ago, said: "I cannot see how Nick Clegg can do the job of deputy prime minister and leader of the party.
"I think it is right for him to do the position of deputy prime minister, but I don't think he can deliver on leader - but perhaps nobody could."
Mr Opik said the Lib Dems leader should take his own advice and "do what is not easy, but right".
But Ali Goldsworthy, the deputy chair of the Lib Dems' federal executive, disagreed.
'Translating success'
"I do think the party faces some tough decisions, but I think they are slightly different to the one that Lembit suggests," she said.
"I don't think we should look at separating the role of deputy prime minister and party leader at all.
"I think that creates extra leadership problems - extra leaders, and that's not the solution that we need."
The current Welsh Lib Dem leader, Kirsty Williams, has said that the party's losses in the local elections on Thursday reflected "a very bad night for any political party that doesn't have Labour in its title".
But while Labour was resurgent, taking control of 10 out of 21 councils in Wales, Cardiff West Labour MP Kevin Brennan warned that the result did not necessarily translate at parliamentary elections.
"As we've seen in the 1980s, when we regularly clocked up big local election victories only to fail in a general election," Mr Brennan told Sunday Supplement.
"To win at a general election we have to be both credible on policy, a credible alternative government.
"It will take, as Ed Miliband quite rightly said, people trusting Labour to come back in and to be competent and to be fair in government."