Vote 2012: Labour confident of 'leap forward' in Wales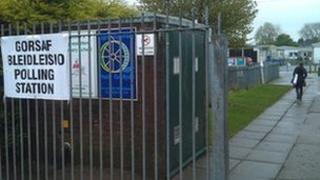 Welsh Labour says it is confident of taking a "leap forward" after polling stations closed in elections for all but one of Wales' local councils.
Some 1,200 seats are being contested in 21 of the 22 unitary local authorities, as well as community and town councils.
Labour issued a statement from First Minister Carwyn Jones claiming it had been a "great day on the doorstep".
Early results appeared to back up the party's confidence as Labour took overall control in Blaenau Gwent.
The first full result announced in Wales was in Wrexham, where Labour made large gains to take 23 seats.
The Liberal Democrat leader of Wrexham's all party administration, Ron Davies, lost his seat to an Independent, as the party lost seven seats.
The Independent leader of Ceredigion council, Keith Evans, lost his seat to Plaid Cymru, which appeared poised to take overall control of the authority.
Former Labour Welsh Secretary Ron Davies, now representing Plaid Cymru, lost his seat on Caerphilly council.
Plaid Cymru earlier said it was too early to make judgements but on the doorstep "it's been quite difficult in some areas and much easier in others".
The party admitted that a low turnout would work against its candidates.
The Welsh Conservatives said early information indicated that its vote had held up quite well in many counties after fielding "a record number of candidates".
However, a party spokesman admitted that "given the difficult situation inherited by the coalition in Westminster and the tough decisions that must be taken, we recognise that this may not be an easy night in parts of the country".
The Liberal Democrats said there appeared to be a low turnout in some of the counties in which it was currently in power - especially in Swansea.
Welsh Labour leader Mr Jones claimed that in communities across Wales people were "coming home to Labour".
Expecting gains
"We have a long night ahead, but we're confident of taking another leap forward," he said.
Labour sources said they were expecting gains in Cardiff, Bridgend and Newport.
The new political make-up of councils will emerge when results are declared on Friday.
Most councils are expected to declare during the early hours, but others are not due until the afternoon.
Labour is defending about 340 seats, Plaid Cymru almost 200, the Conservatives 165 and the Liberal Democrats 140. The rest were filled by independents or small parties.
Opinion polls have suggested Labour is poised to make gains after losing ground in heartland areas at the last local elections in 2008.
Among the councils to watch are Cardiff and Swansea where the Lib Dems, who have led both authorities, will hope to hold back challenges from Labour.
More than 90 seats for the unitary authorities have already been filled by unopposed candidates.
Elections in Anglesey, where ministers have put commissioners in charge after years of political infighting, have been postponed until next year.