Affordable homes: Welsh assembly committee urges target and leadership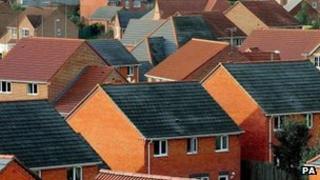 More action has been urged from the Welsh government over affordable housing after a cross-party inquiry.
The assembly's communities, equality and local government committee wants an affordable homes building target, and is calling for "clear leadership".
Among 14 recommendations, it has also called for the re-examination of Wales' 2010 national housing strategy to ensure it is fit for purpose.
The Welsh government said it would publish a housing white paper in May.
Community Housing Cymru (CHC), which represents not-for-profit housing associations, welcomed the committee's call for an affordable homes building target, adding that at least 8,000 needed to be built by 2015.
The committee's recommendations followed an inquiry into the provision of affordable housing.
More than 50 people and organisations gave written evidence or appeared before the committee, including housing charities, mortgage lenders and house builders.
"The committee recognises that the Welsh government intends to address some of our concerns in the forthcoming Housing Bill which will be put forward during this assembly," said Ann Jones, the committee's chair.
"Our hope is that the findings of this inquiry and the recommendations we have made contribute towards shaping that Bill.
"The barriers hampering the provision of affordable homes in Wales are complex and require the input and co-operation of, among others, governments in Wales and Westminster, local authorities, agencies and construction firms.
"But with clear leadership from the Welsh government in particular, we believe that these barriers can be overcome."
'Falling off a cliff'
CHC chief executive Nick Bennett said: "A [house building] target will focus minds and resources and we welcome the committee's recommendation to Welsh government.
"Whilst it won't be possible given public spending cuts and a challenging lending environment to meet the 5,000 homes needed every year according to the Holmans report, we need to do as much as we can to meet the high level of need, need which is likely to grow given the economic downturn and cuts in welfare provision."
Mr Bennett said as well as delivering much needed homes, the target would assist with creating jobs and training opportunities and boost economic growth.
"The sector has produced around 2,000 new additional houses this year but we will be falling off a cliff unless we can sustain investment over the next three years," Mr Bennett added.
A Welsh government spokeswoman said it would study the committee's report and respond in due course.
She added: "The Welsh government's white paper on housing, which will set out our action for the housing sector and will include a target number of affordable homes, will be published in May."
More than 15,000 people sought council help for being homeless in Wales during 2011, up 11% on the previous year, figures obtained by BBC Wales revealed last month.
The Welsh Local Government Association said a lack of affordable homes and a difficulty for young people in securing mortgages contributed to the rise.