Opt-out organ donation supported in public consultation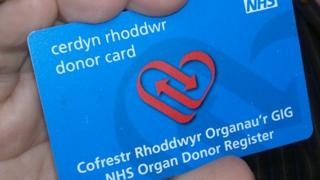 A majority of respondents to a Welsh government consultation said they were in favour of changing the law on organ donation.
Welsh ministers want a soft opt-out system so everyone's organs are available for donation when they die unless they have said otherwise.
The health minister published a summary of responses to the proposals on Thursday.
It showed 52% of respondents in favour and 39% against.
The government is expected to publish a bill in June to bring in a system of presumed consent for organ donation.
It wants the system - the first of its kind in the UK - to be in place in 2015.
Health Minister Lesley Griffiths said: "I am aware the subject of organ donation is highly emotive and that many people have strong views on the issue.
"The Welsh government is committed to introducing a soft opt-out system of organ donation which, evidence suggests, could increase the number of organ donations by up to 25%."
She said on average one person a week in Wales dies while waiting for a transplant because a suitable donor cannot be found.
The consultation did not ask respondents directly whether they supported the proposals - but 1,124 of the submissions did indicate a view, with 642 in favour and 482 opposed.
Changing the law
However, 485 responses were in the form of a standard letter circulated by the Opt For Life campaign, an alliance of charities supportive of the opt-out system.
A BBC Wales/ICM opinion of 1,000 people in Wales last week found 63% of people in favour and 31% against the policy.
The consultation asked a number of questions about implementing the policy, including which factors should be taken into account when determining whether an individual lived in Wales and how the wishes of families should be taken into account.
The government also held 13 public meetings as part of the implementation consultation process.
Campaigners argue an opt-out system would increase the number of organs available for transplant, but critics have said there is no evidence that changing the law will work.