Welsh Lib Dem conference: Nick Clegg urges courage on difficult decisions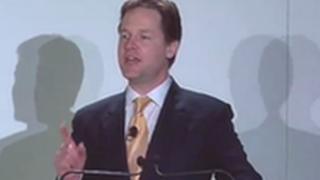 Liberal Democrats should "look forward with our heads held high", Nick Clegg has told the Welsh wing of his party.
He admitted Lib Dems took a "hammering" at elections last year, when the Welsh party came under "fierce attack".
But the deputy prime minister insisted the party was "doing the right thing" through its coalition with the Conservatives in Westminster.
He urged the Welsh Lib Dem conference in Cardiff to have the "courage" to see through difficult decisions.
Mr Clegg said: "I know it can be difficult to feel optimistic when times are so tough.
"But we are doing the right thing, for Wales and the whole United Kingdom, and I believe we have every reason to look forward with our heads held high."
Lib Dems have come under fire from opponents for their role in the UK government's spending cuts and stewardship of the economy.
But Mr Clegg told the conference in Cardiff that the country had suffered "an economic heart attack, and there is no magic want that will make everything better overnight".
Income taxes were being cut, he said, proof that people were being offered "practical help in tough times".
He attacked the health and education policies of the Labour Welsh government.
The devolved administration "should be ashamed" of slipping standards and a spending gap between pupils in Wales and England, Mr Clegg said.
He said Welsh communities had been let down twice: first by Margaret Thatcher, then by Labour which "kept communities afloat by replacing industrial jobs with public sector jobs".
"And now it falls to us, acting in the national interest, to start to rebuild," Mr Clegg said.
He added: "That's why we have taken the difficult decisions that we have.
"And it's why we must show the courage to see them through."
The UK government was "laying the foundations of a fairer, greener more liberal Wales in a fairer, greener more liberal United Kingdom".
'Great pride'
His speech came a month before local elections when the Lib Dems will hope to keep control of prized councils such as Swansea and Cardiff.
Lib Dems will want to show an improvement from last year's assembly elections when they lost one of their six seats.
"It's no secret we took a hammering right across the UK in last May's elections," Mr Clegg said.
"And I know you have come under fierce attack in Wales too.
"But thanks to all of you we held our own in the Welsh election and it gives me great pride to come here and see our party in such good heart."
Before his speech, Mr Clegg visited a homework club in Cardiff where a child asked if he liked being deputy prime minister.
"Most of the time," he answered.
He was heckled by about 30 anti-cuts protesters as he arrived through the front door of the conference venue - the Holland House Hotel, in the city centre - with Welsh Lib Dem leader Kirsty Williams.
In his speech, Mr Clegg praised Ms Williams's leadership, saying he had been on the receiving end of her "rollicking about all the things we should be doing for Wales".
Political parties are gearing up for Welsh local elections in May when the Lib Dems will hope to keep control of prized councils such as Swansea and Cardiff.