Wales First Minister Carwyn Jones signs China agreement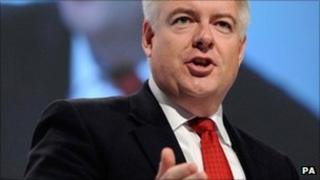 A new agreement has been struck cementing links between Wales and one of China's leading industrial cities.
First Minister Carwyn Jones and the mayor of the south western city of Chongqing signed the new memorandum of understanding on Monday.
The two governments will share expertise in a range of industrial, social and cultural activities.
Mr Jones is leading a delegation in China promoting Welsh business and higher education.
Chongqing is one of China's major economic and industrial centres, with a population estimated at 30 million.
Previous links between the city and Wales include the loan of ancient Chinese artefacts to the National Museum of Wales in January, and the staging of a Wales Week in Chongqing in March promoting business.
'Fantastic platform'
The agreement commits Wales and Chongqing to continue sharing expertise in science, technology, culture, health, education, agriculture, economic development, forestry management, environment, governance and tourism.
Mr Jones said: "This new agreement is another step forward in our evolving relationship that has seen us learn from each other in areas as diverse as economic development, education and culture.
"We want this close working to continue to the benefit of both Wales and Chongqing and I look forward to continued years of partnership to cement our close links."
The first minister also visited the 8th China International Garden Expo where Wales' National Botanical Gardens at Llanarthne, Carmarthenshire, are representing the UK with a showcase garden.
"This huge event is a fantastic platform to promote Wales to an international audience," said Mr Jones.
"The Chongqing Expo covers a two square kilometre site and unlike similar events in the UK it is permanent, so there will be a Welsh representation in the city for many years to come."