Cardiff and Vale health board's 'grave' budget warning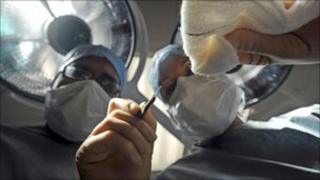 The head of the health board for Cardiff and Vale of Glamorgan has warned staff its finances are in a "grave" state.
Cardiff and Vale University Health Board (UHB) has ordered a recruitment freeze and war on waste because of "unprecedented" financial pressures.
The board said it related largely to cost pressures, not to government cuts.
The health board's responsibilities include the University Hospital of Wales in Cardiff, Wales' largest.
In a "special edition" of a newsletter to staff this month, Cardiff and Vale chief executive Jan Williams says: "The current financial position is grave and I cannot stress enough the need for everyone to work together to meet the challenge."
'Urgent'
"Urgent action" is needed to meet a legal obligation to break even by next March, she says.
The first half of the year has been "very challenging" and the board "faces unprecedented financial and performance pressures".
It needs to save £87.8m. Plans are in place for £56.3m, "some of which have risks that must be managed carefully".
As part of "immediate and decisive action to drive down costs", the board has decided to put an immediate hold on external recruitment. People will not be hired from outside without the chief executive's personal approval.
The cost of paying locum doctors and agency workers is being looked at, and a voluntary early release scheme is being offered to staff.
Ms Williams urges staff to "wage war on waste" and asks them to "be as flexible as possible" at work.
It comes at a time of mounting concern in Cardiff Bay about health service reorganisation.
'Damning indictment'
Conservative assembly leader Andrew RT Davies said: "The document is an extremely damning indictment of Labour's mismanagement of the Welsh NHS."
He attacked the Welsh Government for failing to maintain health spending - its biggest item of expenditure at £6bn - in line with inflation and called on Health Minister Lesley Griffiths to make a statement in the Senedd.
A spokesman for Mrs Griffiths said funding for health and social services had remained the same this year in cash terms. Cardiff and Vale health board's share was more than £1bn per year.
He said: "Yet again the Tories are wrong. We are not cutting the NHS budget.
"We had to take a number of tough decisions to protect the NHS budget as a result of the savage cuts imposed on Wales by the Tory-led UK Government.
Financial pressures
"Welsh Labour's commitment to the NHS - and its founding principles of care free at the point of need - is absolutely clear and supported by people all over Wales in the recent election."
A spokesman for the health board said the savings it needed to make were not due to cuts from the Welsh Government "but relates largely to cost pressures associated with the delivery of services, including inflation, additional staffing and drug costs".
"The financial pressures we face this year have been well documented and discussed openly at our public board meetings over a number of months," he said.
"The UHB is doing all it can to address these financial challenges, which includes working closely with staff and staff representatives to identify where resources can be released and waste reduced, while maintaining our high standard of patient care.
"It is absolutely right to involve staff in this way and it is disappointing that our efforts to engage staff in what is a critical debate are being reported in this way."