Welsh Government funding inquiry established in autumn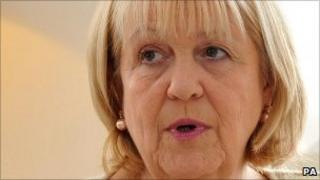 A commission into the way the Welsh Government is funded will be established in the autumn and report next year, Welsh Secretary Cheryl Gillan has said.
The Conservatives and Liberal Democrats had promised to set up a commission as part of their Westminster coalition deal.
It will submit a second report on the constitutional settlement in 2013.
First Minister Carwyn Jones said he welcomed the announcement.
The Welsh Government wants powers to borrow money and control of some taxes.
It also wants reform of the Barnett formula which is used by the Treasury to set the budgets of the devolved nations and which critics say short changes Wales.
Mrs Gillan said: "It is only right that the Welsh Government is accountable for the money it spends.
"We are only at the beginning of the process, but I believe that by working together across parties, between governments and institutions, we can reach agreement which will deliver fiscal accountability to the assembly."
She said that after the UK government had considered the commission's proposals, it would look at the constitutional settlement in Wales "in the light of experience" and would aim to report its findings in 2013.
First Minister, Carwyn Jones, said: "I welcome the announcement of an independent commission to look at fiscal devolution for Wales, and that the commission will consider all aspects of the Holtham report for funding reform as part of its work.
"We will continue to work closely with the UK government to ensure this work progresses as quickly as possible in order to achieve a fairer funding package for Wales."
Plaid Cymru leader Ieuan Wyn Jones said it was "disappointing" that more details of the commission had not been released, but gave a cautious welcome to the news.
He added: "What is important now is that there is finally progress in terms of reforming the way Wales is funded, and this statement suggests that that will now be taken forward by the UK and Welsh governments."