Bardsey lighthouse lens £3.9m visitor centre home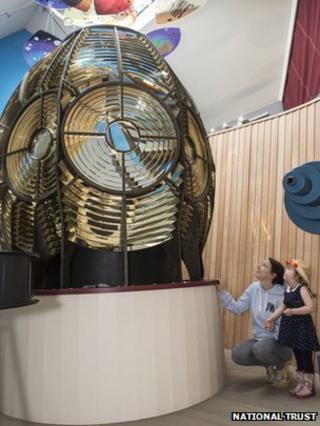 A lighthouse lens that once warned shipping of Bardsey Island's treacherous rocks is now part of a new £3.9m National Trust centre.
The massive two-tonne optic has been given a new home at Porth y Swnt scheme at Aberdaron.
The project hopes to offer visitors an insight into the way of life on the Llyn Peninsula, as well as extending the coastal path in the area.
It was officially opened by Welsh economy minister, Edwina Hart.
"I'm sure the development will give the village's economy a boost while protecting the unique cultural and natural heritage that makes the area special," said the minister.
"I'd like to congratulate the National Trust, the community and partners on this development and hope it's appreciated by many over the coming holiday season. "
The development is one of the National Trust's coastal tourism centre of excellence, and has been part funded by the Welsh government's tourism arm, Visit Wales, and European cash.
In addition to the visitor centre, work has been carried out to link and develop more coastal paths, which are part of the all Wales Coastal Path .
The new centre itself is themed to represent a journey reflecting the landscape and people of the Llyn.
That journey includes:
'The Deep': a dark, atmospheric sea where elements of the farmer, fisherman and pilgrim are represented by carved figures
'The Way': where man's interaction with the land comes alive in rich tapestry
And 'The Light': representing Llyn's rich history as viewed through telescopes
"What better way to shine a light on Llyn than to install a giant historic optic right at the very heart of our visitor centre," said Andy Godber, National Trust Llyn Operations Manager.
"With a dramatic coastline, rolling countryside and fascinating history and legends, Llyn is like nowhere else on earth and we want to encourage more people to discover this way of life and the place's history."