Meeting over Pont Briwet bridge work concerns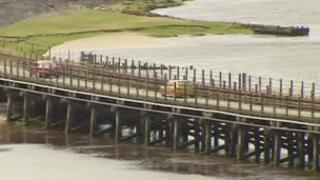 Residents of a north Wales town unhappy with traffic delays caused by work on a new river bridge will have a chance to air their views at a meeting with the council later.
The 154-year-old Pont Briwet bridge in Penrhyndeudraeth, Gwynedd, closed in January amid safety fears.
The council dropped plans to build a temporary bridge and began a convoy system on a detour along the A496.
A local councillor said some businesses were concerned over loss of trade.
The meeting is being held at Penrhyndeudraeth Memorial Hall at 19.00 BST.
Originally it had been hoped the Grade II-listed bridge would remain open while work took place to build a new rail and road crossing by 2015.
But in January the council confirmed that Pont Briwet would close permanently amid safety fears, and said a temporary bridge would be installed in May.
The closure meant an eight-mile (12km) diversion for motorists via Maentwrog to the Harlech road, with buses replacing trains until the new railway line opens this summer.
The council shelved plans for a road crossing in March after safety fears due to increased traffic on the A496 between Maentwrog and Llandecwyn.