Ysgol Goronwy Owen ex-head teacher dubbed 'dictatorial'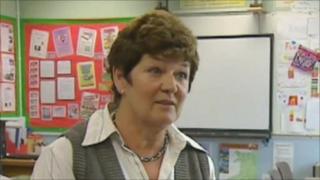 Communication between a "dictatorial" headmistress and parents at an Anglesey school broke down in the months before she was suspended, a tribunal heard.
Ann Hughes had "lost control of the management" at Ysgol Goronwy Owen in Benllech, the General Teaching Council for Wales was told.
A council official said parents did not want to speak to him when he visited for fear of being seen by Mrs Hughes.
Mrs Hughes was dismissed from the school in 2011, the panel heard.
On Wednesday, the professional conduct hearing at Ewloe, Flintshire, heard from Gareth Williams, an education official with Anglesey council, who visited the school in 2011 to meet parents.
"The main concern was they as parents were not being listened to and hadn't a voice," he said, adding that two parents gave him a sealed box containing letters from concerned parents.
'Hard working'
Mr Williams said communication had broken down between Mrs Hughes and her staff, and between her and parents.
"Mrs Hughes had lost control of the management of the school," he said.
The hearing was told that five teachers who went off sick at the same time were frightened of the head teacher and felt she had a "dictatorial" manner.
But quizzed by Mrs Hughes's barrister Annette Gumbs about the time he worked previously with Mrs Hughes as a primary school adviser, Mr Williams said: "Mrs Hughes was great. She was hard working.
"I went into the school to look at teaching and learning. I saw some excellent teaching there. It was a successful school."
Ms Hughes was suspended three months after the teachers walked out, and was then dismissed.
The hearing is expected to last until Friday.