Ysgol Goronwy Owen: Former head asked police to tell pupils off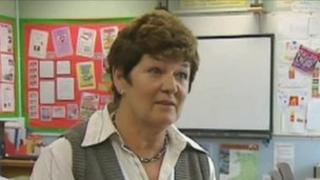 A former head teacher in Anglesey behaved "inappropriately" by calling on a police officer to tell pupils off after they were unwilling to pose for a photograph, a hearing has been told.
Ann Hughes, who was dismissed from Ysgol Goronwy Owen in Benllech in 2011, was accused of showing favouritism to pupils who spoke Welsh.
The allegations have been made to a professional conduct panel of the General Teaching Council of Wales.
Ms Hughes will address the panel later.
On Tuesday, the hearing at Ewloe, Flintshire, was told the former head faced a catalogue of complaints, including failing to investigate and address bullying of two pupils, shouting excessively in the classroom and airing parents' complaints during assembly so potentially identifying pupils.
The hearing also heard she engaged in unnecessary open criticism of children's mistakes and gave excessive and public punishment for misbehaviour, and failed to provide adequate support or show proper sensitivity to pupils.
It was also alleged she openly criticised one pupil's mistake in spelling part of his name and tore up an examination paper in front of him.
In 2010, five out of six teachers at the school walked out saying they could not work with her and went on sick leave.
Ms Hughes was suspended three months later, and then dismissed.
The hearing is expected to last until Friday.