Lord Treffos objects to bid to lift Anglesey land rights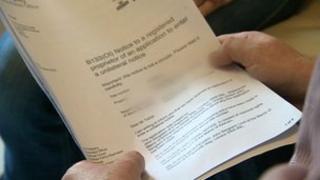 A lord of the manor has objected to householders attempting to lift his claim of manorial rights over their land.
In his guise as Lord Treffos, Cheshire businessman Stephen Hayes has written to around 4,000 people on Anglesey claiming the rights.
Lords of the manor had a deadline of October 2013 to register their claims or see them extinguished.
A public meeting takes place at Ysgol David Hughes in Menai Bridge later.
The meeting will discuss the latest twist in the manorial rights issue affecting more than 4,000 householders on the island.
Mr Hayes has written to them informing them that he has registered his rights as Lord of the Treffos manor, covering an area of 10,500 acres (4,250 hectares) from the villages of Llanddona to Llanfairpwll including the town of Menai Bridge on the east of the island.
Protecting investment
Manorial rights originated in the Middle Ages when land was divided between feudal lords such as the church or Crown and gave the holder rights to hunt, fish, and mine for minerals.
Residents receiving information that the rights had been registered have become worried about restrictions on house sales, access to mortgages, loans, and even afraid that companies using these rights could drill for shale gas on people's land.
Mr Hayes has now told the Land Registry that he objects to the applications to lift his rights in order to "protect his investment".
The Land Registry has said this could lead to a land tribunal or court to decide the issue.
Householders have until the end of February to consider fighting Mr Hayes' objection.
He says he has spent £35,000 on the matter since buying the title in 1992.
The title is currently for sale for £40,000 and has been offered to the affected landowners.
In January the issue was brought before Parliament where Ynys Mon MP Albert Owen organised a debate.
He said local residents were suffering anxiety and distress because of "absurd ancient property rights".