Nuns' retreat manager Marie Sloan struck off nursing register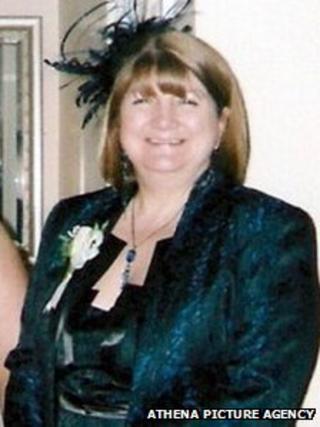 A foul-mouthed care manager at a religious retreat for nuns has been struck off the nursing register.
Marie Sloan was sacked from her post at the Sisters of Loreto in Llandudno following a four-year spell of chaos.
The Nursing and Midwifery Council (NMC) was told how the 57-year old gave a frail nun the wrong medication for a week and trawled the internet for embarrassing stories about the Sisters.
But she was cleared of locking a worker in a room with a dead body.
'Position of trust'
The NMC's fitness to practise panel chairwoman Christine Castledine said people would be placed in danger if the registrant was allowed to stay on the nursing register.
"Her conduct took place over a significant period of time when she was dealing with vulnerable and elderly patients who depended upon her," she added.
"Despite Ms Sloan being in a position of trust, the care of the Sisters was not her first concern."
She added: "This decision sends a clear message of the standards expected and required of nurses.
"Ms Sloan may face some hardship as the result of the decision, but the public's interest and protection outweigh these."
The facility, a former boarding school, is now described as a "spiritual retreat" and offers residential places for up to 20 nuns.
A three-person panel said Ms Sloan's behaviour fell well below the standards expected of a registered nurse.
The five-day hearing, which she did not attend, was told she was appointed as the only qualified nurse at the retreat taking up the newly-created post of care manager in 2008.
Despite impressing in interview with her "extensive" nursing experience, her abilities were soon called into question.
In 2011 and 2012, inspections of the convent were carried out by external auditors, who said they were shocked at what they found.
The panel found the registrant placed her patients at unwarranted risk time and time again.
'Witches'
Carer and cook Janet Starr, who has worked at the retreat for 16 years, told the NMC the place was supposed to be holy and serene, but she added: "One of the carers came into work drunk and I had to send her home for everyone's safety.
"I phoned Marie about it but her reply was, 'I can't do anything about it'."
The panel was also told Ms Sloan "regularly swore and used to call the sisters witches".
During inspections, it was also found that patient confidentiality was breached by "loud-mouthed" Ms Sloan, no staff training was provided and medication was not safely and securely stored.
A housekeeper said she often found tablets strewn over the floor and in unlocked drawers.
Ms Sloan was also accused of suddenly stopping the drug supply for a woman referred to in the hearing as Patient A, without approval from a doctor.
When the elderly woman died, the NMC was told how the registrant forgot to cancel the prescription, resulting in a stockpile building up.
Mrs Starr said her former boss confessed to taking "hundreds" of the tablets to South Africa for her brother-in-law, who had the same condition.
'Actual patient harm'
"Marie said the medication was too expensive out there and her brother-in-law couldn't afford it," she added.
"I told her that was illegal and drug-smuggling, but she didn't seem to care."
Also in 2012, a woman referred to as Patient B was given the wrong medication.
The NMC said the gaffe, which caused "actual patient harm", was noticed when the unwell nun noticed someone else's name on the packaging of the tablets just before she was due to see a GP.
The doctor's appointment was cancelled but the mix-up was never recorded in the patient's notes and only came to light when the pensioner told another member of staff in passing about it.
The panel also heard that Ms Sloan contacted ex-pupils of the nuns over the internet in an attempt to find embarrassing stories about them.
As well as sharing the information she claimed to have found with staff, she compared one of the nuns to an internet photograph of a topless grandmother who had had breast enhancement surgery.
Mrs Starr added: "It was just terrible. She was supposed to be protecting these ladies, but she didn't treat them with any respect at all."
Ms Sloan has 28 days in which to lodge an appeal.