Lauriston Court Hotel, Llandudno, 'third best bargain stay in world'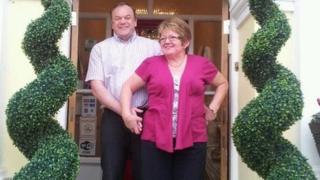 A family-run hotel in the north Wales seaside resort of Llandudno is the third best bargain place to stay in the world and best in the UK, the travel website TripAdvisor said.
The four-star Lauriston Court Hotel had previously scooped the site's award for best service in the world last year.
The 11 rooms at the hotel start at £70 for a double room.
The Wellington Hotel, also in Llandudno, claimed ninth place in the best bargain stay in Europe category.
The Lauriston improved its ranking by three places on last year's TripAdvisor Travellers' Choice awards.
Of 643 reviews on TripAdvisor, 605 rated the hotel as excellent.
The hotel was beaten to the two top spots for worldwide bargain hotel by venues in the west of Ireland and Palm Springs, California.
Husband and wife team Carol-Lynn and Ian Robbins, who previously ran the nearby Milverton hotel on the seafront until 2003, have called their chosen profession a way of life rather than a job.
Speaking about this year's award, the couple said they were honoured to receive it, adding: "We take pride in the knowledge that our guests appreciate everything we are doing and we would like to take this opportunity to thank everyone who has stayed with us over the past year for helping us to win this award.
"Winning this award is a tremendous achievement for us and the rest of the team at Lauriston Court."
James Kay from TripAdvisor said: "With more than 700,000 hotels around the world in the running this year, what a fantastic achievement for a Welsh hotel to be named third in the world for a bargain stay."
North Wales' establishments gained more recognition in the best worldwide bed and breakfast category.
Bod Gwynedd in Betws-y-Coed and Plas Dinas Country House in Bontnewydd, both in Gwynedd, came 15th and 17th.