German speakers wanted to meet Anglesey cruise tourists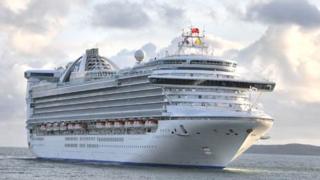 German speakers in north Wales are being sought in an effort to capitalise on an expected rise in tourists visiting on cruise holidays.
The number of passengers docking at Anglesey is expected to rise from 9,000 to 13,000 in 2014, and one of the biggest ships is the 2,500-passenger German luxury liner, the Mein Schiff 1.
Cruise Wales wants to recruit 40 German speakers to work with tour guides.
A three-day training course will be held next month.
Cruise Wales is expecting a rise in the number of German passengers arriving at Holyhead.
It has launched the initiative in conjunction with the Welsh government and Tourism Partnership North Wales (TPNW).
Staff are needed to meet tour guides and make German visitors feel welcome.
Business Minister Edwina Hart said: "Germany has also been identified as one of our key overseas markets.
"The experience that our cruise passengers have in Wales will be enriched if their off-shore based itineraries are led by a German-speaking tour guide."
TPNW will hold a three-day training course between 24-26 February.
Dewi Davies, its regional strategy director, said: "An increasing number of the cruise ship passengers are from Germany and we know that overseas visitors spend a lot more than those from the United Kingdom.
"On average a German visitor will spend between £80 and £90 a day on a shore visit whereas the UK visitor might spend between £40 to £50 a day.
"Attracting more German visitors is therefore a priority for the Welsh government and a priority for us as they are definitely our biggest spenders."
'Fly in ointment'
He added: "We've got a great deal to offer them so the challenge for us of course is to ensure they're all escorted on their excursions expert guides.
"A fly in the ointment is that the guides don't always speak German, and therefore the German visitor isn't getting the best they can do of their experience.
"That's why we are launching the recruitment drive to find German speakers to work with the tour guides.
"We want our German visitors to return home talking excitedly about our heritage and culture and to do that we need to improve the guiding experience and the sense of place that they will get from it."
Anyone interested can contact TPNW.