Josie Russell campaign stops Snowdonia slate quarrying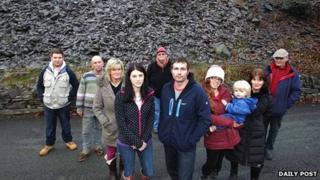 Artist Josie Russell, who survived a hammer attack which killed her mother and sister, has won a campaign to to stop slate quarrying in Snowdonia.
Gwynedd councillors backed officers' recommendations to refuse a plan to excavate 160,000 tonnes of waste from the former Dolbebin tip at Talysarn.
The councillors decided it would be too noisy and there is already enough slate waste available.
The company behind the plan said 10 jobs would have been created.
Bryn Hughes, of Ffridd, Nantlle, had wanted to extract 160,000 tonnes of slate - 20,000 a year - over an eight year period.
However, there were 125 objections to the scheme and campaigners claimed it would have a detrimental impact on the environment.
Before the meeting Ms Russell, 26, a textile artist, said: "If the proposals go ahead it will destroy local wildlife, ruin the peace and air quality of our valley, and cause no end of destruction to the environment so dear to my heart."
She and her father Shaun returned to the Nantlle Valley after the hammer attack in Chillenden, Kent, in 1996, when she was nine. The assault killed her mother Lin, and sister Megan, who was six.
Michael Stone was jailed for life and will not be considered for release until 2031.