Woman's body found in stream at Nant Ffrancon, Bethesda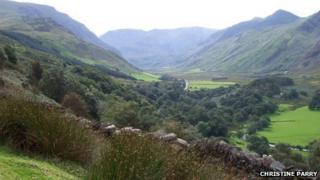 Police are investigating the death of a woman whose body was recovered from a fast-flowing stream in Gwynedd.
They were called to the incident at Nant Ffrancon in Bethesda at 15:37 GMT on Monday.
North Wales Fire and Rescue Service and the Ogwen Valley Mountain Rescue also attended but the woman was pronounced dead at the scene.
Ogwen Valley spokesman Paul Smith said: "It seems the woman had gone out to check the water supply to her house."
"A little while later her partner noticed she had gone and raised the alarm," he told BBC Wales.
"The place she was found is just 50 metres from her house. It's a small stream that runs off the mountain - about half a metre wide and three quarters of a metre deep - but it was in full flow.
"All the emergency services attended. The Ogwen Valley Mountain Rescue Organisation was called because of the off-road location and because we have specialist expertise in swift water rescue.
"In the event, we were stood down fairly quickly because the other emergency services were able to deal with the incident."
North Wales Police said they were investigating the death but were unable to confirm any details of the circumstances.