Women praised for speaking up on William Pulman's abuse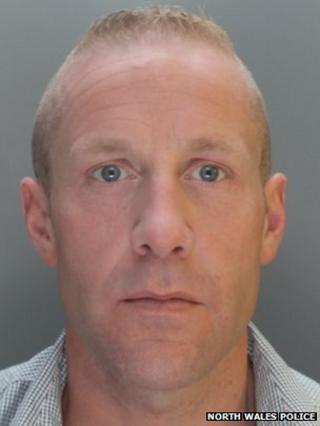 Two "courageous" women have been praised for speaking out about the abuse they suffered at the hands of a "violent coward and bully".
William Pulman, 38, of Penrhyn Bay, Conwy county, was jailed for nine years for a series of attacks on them.
The judge at Mold Crown Court made a life-long restraining order banning Pulman from approaching his victims.
North Wales Police said they hoped the women's bravery would give other victims the courage to speak out.
Pulman bullied and assaulted his victims in "quite bizarre" temper tantrums, the court heard.
His behaviour was controlling and manipulating and some of the evidence was described by Judge Rhys Rowlands as "harrowing".
Wyn Lloyd Jones, prosecuting, had warned the jury they would find the the case upsetting, but said they had to concentrate and put emotion to one side.
Following a five-week trial, Pulman was convicted of eight charges of assault and one of unlawful imprisonment.
He was cleared of two charges of rape.
Owen Edwards, defending, said Pulman accepted the verdicts and was aware he had been convicted of despicable acts.
He said he would seek help with his temper while serving his sentence.
Judge Rowlands said Pulman had tried to play the system and deceive the jury, and was not eligible for a reduced sentence for guilty pleas or remorse.
"You have not shown an ounce of contrition," he said.
"You are nothing more than a coward and a bully with an explosive temper."
Det Insp Lisa Surridge of North Wales Police praised the women for coming forward.
"The victims in this case were truly courageous in finding the strength to speak out about the horrendous abuse they suffered at the hands of this man," she said.
"I hope this sentence gives other victims the same courage to speak out in the knowledge that they will be listened to and supported by North Wales Police and other partner agencies."