Cais veterans' help groups in £1.4m Libor payout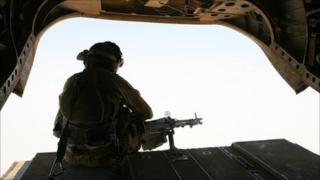 More than £1.4m has been awarded to a Llandudno-based drug and alcohol misuse support charity to help armed forces veterans across Wales.
Help group Cais will use the money to extend Change Step, a peer mentoring service run by veterans.
It will also run Listen In which will help family members and carers.
A total of £12m has been awarded to 24 military charities by the UK government in the latest wave of money from UK banks in Libor fines.
In the UK as a whole, a total of £35m from the armed forces covenant (Libor) fund has now been distributed to 96 military charities.
It was imposed on the banking industry for attempting to rig Libor - the interbank lending rate that is a key benchmark for interest rates.
'Misunderstood'
Cais will work with the Drug and Alcohol Charities Wales (Dacw) consortium to run its Change Step service across Wales over the next two years.
Mental health charity Mind and the Association of Voluntary Organisations in Wrexham will help to provide the family support service.
Cais chief executive Clive Wolfendale said: "Veterans can often feel misunderstood and that is why we take on well-motivated veterans as peer mentors because there is an instant connection between them because of their shared experience.
"Relatives and carers often feel they have no-one to turn to either, which is why we are delighted to be launching the new Listen In service too."
Change Step said veterans wanting to access the service or wishing to apply to become peer mentors can contact them on 0845 061 2112.