Economy concerns as Halo Foods moves to Newport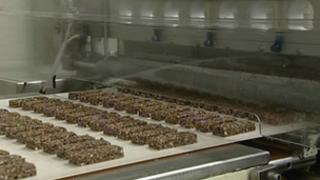 There are concerns about the future of the economy in a Gwynedd town where a factory is closing with the loss of 105 jobs.
Snack bar manufacturer Halo Foods has agreed a 25-year lease for a purpose-built unit on a site in Newport.
About 10% of the workforce have decided to move with the company to south Wales where production stops on Friday.
A Welsh government spokesman said it would explore 'all opportunities' to bring employment to Tywyn.
The factory has been the major employer in the area for many years.
It is believed that work ended at the factory on Thursday because there were no workers at the site on Friday.
A support hub in Tywyn was created when the move was announced in June to provide advice and guidance for those affected and it will remain in place until the new year.
All the employees have been offered the chance to relocate to Newport which included a financial support package.
'Encourage investment'
As part of this process, coaches and tours of Newport and the surrounding area have taken place.
Councillor John Wynn Jones, Gwynedd Council Cabinet Member for Economy, said: "Halo Foods has been an important employer for the Meirionnydd area and it is naturally disappointing they have decided to relocate from Tywyn as a result of the hugely challenging economic climate.
"As a result, we will be prioritising work to encourage investment and possible job opportunities for the Dysynni area.
"Indeed, since the announcement in June, the council has been working closely with Halo and other partners including the Welsh government and Job Centre Plus to provide a package of advice offering opportunities for those interested in establishing their own business.
"The council has also agreed to market the Pendre Industrial Estate, and we will be working with the Welsh government to target investment opportunities for the area, with focus on the care sector, food, tourism and the energy sector."
A Welsh government spokesman said: "The Welsh government continues to explore all opportunities to bring employment to Tywyn following the closure of the Halo Foods factory."