Colwyn Bay pier plan should be 'out in the open', says MP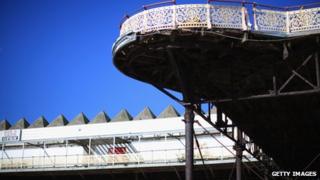 A council claiming the disputed ownership of a pier has been urged by the local MP to be "out in the open" about its plans for the structure.
Clwyd West Conservative MP David Jones said the people of Colwyn Bay had a stake in the future of the town's grade II-listed Victorian pier.
Conwy council claims ownership after a High Court ruling in May upheld most, but not all, of its case in a dispute with former owner Steve Hunt.
A final ruling is expected this month.
In the meantime, the council has been awarded around £600,000 in Heritage Lottery Fund (HLF) grants.
The money is to investigate the feasibility of restoring the pier - which closed in 2008 - to how it looked in the early 20th Century.
Mr Jones, stressing that he spoke in his capacity of constituency MP and not as Welsh Secretary, is urging the council to place these findings "out in the open" so that it did not hamper the rest of the town's regeneration.
He said: "I think we do need clarity. If they are not going to restore the pier, what proposals do they have?
"Do they intend to apply to [Welsh heritage body] Cadw for consent to demolish it?
"The thought of it remaining in its current condition much longer is something that would distress everybody in Colwyn Bay.
"I think this should all be out in the open. People in Colwyn Bay have a stake in this decision."
The pier was opened in 1901 and has hosted performances from the likes of Morecambe and Wise, Elvis Costello, Motorhead and Harry Secombe.
But it has been closed since 2008 after Mr Hunt - who has never relinquished his claim to own the attraction - was made bankrupt.
In the interim its condition has gradually worsened.
Culturally significant
A spokesman for Conwy council said the local authority remained well within the time frame set out by the HLF to come up with detailed restoration proposals.
He said: "Council officers are currently working with community interest group Shore Thing to develop the detailed stage two HLF bid.
"They are scheduled to provide a report to full council before Christmas for members to decide how Conwy County Borough Council will proceed.
"The council has up to two years to submit more detailed plans and apply for the remainder of the £4,974,500 HLF support that it is seeking for the project."
The council has offered reassurance that, whatever the future of the pier itself, measures would be taken to protect its culturally significant artwork.
The spokesman added: "As well as structural repairs, the proposals include the restoration of murals by the artists Eric Ravilious and Mary Adshead, both nationally important figures in the history of 20th Century British art."