Wylfa B: Anglesey by-election candidates discuss nuclear power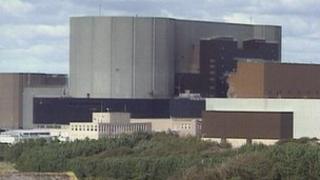 Candidates in the Welsh assembly by-election in Ynys Mon have been outlining their views on nuclear power.
The six were questioned about their views on plans for a proposed Wylfa B station on Anglesey by BBC Radio Wales' Sunday Supplement programme.
Voters go to the poll next Thursday.
The candidates are: Steve Churchman, Lib Dem; Neil Fairlam, Conservative; Nathan Gill, UKIP; Rhun ap Iorwerth, Plaid; Kathrine Jones, Socialist Labour party; Tal Michael, Labour.
The current Wylfa power station is coming to the end of its operational life but there are plans for a replacement.
Speaking in an order based on names out of a hat on the programme all six candidates were questioned about their views about the so-called Horizon project.
'Look for alternatives'
Plaid Cymru's Rhun ap Iorwerth said he was in favour of Wylfa B as long as everything was done to make sure that it is "for the benefit of Anglesey".
"We need to make sure when Wylfa comes we have the right people to fill the jobs."
Whilst Plaid Cymru, as a party, is anti-nuclear there is a policy going back 40 years in favour of developing nuclear power stations on the sites where there are nuclear power stations in the past, he said.
"I'm saying yes to Wylfa B," he added.
The number of jobs available to local people was questioned by Steve Churchman, who said he was dismayed that in the Westminster coalition the Liberal Democrats anti-nuclear policy had not been taken on board.
'Catalyst'
"I fear it's going to bring people into the area which will undermine the communities on the island. I think we should be looking at alternatives."
He also warned about the dangers of "putting all the eggs into one basket".
Steps should be taken to make sure that a Wylfa B was a "catalyst" according to Labour candidate Tal Michael.
"We need to make sure it happens and make sure the way it's implemented is of benefit to local people," he said.
"It's estimated that there are 60% of the jobs will be filled from the island, and there are also those people who have moved away from the island because of lack of job opportunities who could come back."
The Socialist Labour Party is clear on Wylfa B as it has a "clear anti-nuclear policy", according to candidate Kathrine Jones.
"We are strongly opposed to the storing of highly radio active waste for up to 150 years on the site without being moved.
'Dangerous'
"The very notion itself should warn us that it's beyond human norms with the most dangerous man-made substances."
Referring to Plaid Cymru and the Liberal Democrat's candidate and party stance on nuclear power Conservative candidate Neil Fairlamb said he felt strongly "party and candidate should be singing form the same hymn sheet".
"(When Wylfa B comes) we're looking for substantial investment and future supporters do not want an assembly member with a contradictory message to the party.
"They want a clear signal of support which the Conservatives and Labour have both given on this issue."
The UK Independence Party's Nathan Gill said his party sees nuclear "as part of a very sensible energy mix".
But he warned that jobs for local people are "hollow promises".
"You cannot force, due to European Union law, any large project to employ locally.
"There's no such thing as British jobs for British workers in the EU," he added.
Japanese-owned Hitachi is behind the Horizon project which aims to build a replacement nuclear power station on Anglesey.
It says it wants to have the first reactor operational by the mid 2020s.
The Sunday Supplement programme, which was devoted to the by-election, can be listened to on BBC iPlayer.