Anglesey by-election: An island shaped by its political history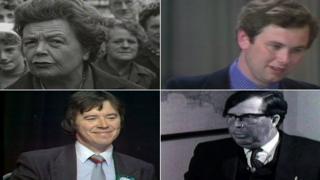 Voters in Anglesey can be forgiven for having election fatigue.
They will go to the polls for a second time this year when electing a new assembly member on 1 August.
Ieuan Wyn Jones' surprise early departure from frontline politics has triggered a by-election on the island he represented for Plaid Cymru in Cardiff Bay since the assembly's inception.
The vote follows May's council elections, which were postponed by a year following another interesting chapter in Anglesey's political history.
This is a history shaped by all four major parties in Wales who have held the seat in Westminster at one time or another.
First woman
The last Liberal MP to represent the seat was Megan Lloyd George, daughter of David Lloyd George, a man who so far has been the only Welsh prime minister.
But Megan Lloyd George made her own mark in the political world as the first female MP in Wales when she held the Anglesey seat in 1929.
She represented the constituency until 1951, when she lost to Labour's Cledwyn Hughes.
There was a certain irony to the result in that Mr Hughes would go on to become only the second Secretary of State for Wales in 1966 - a post she campaigned for in parliament.
Born and raised on Anglesey, Cledwyn Hughes was a strong supporter of Welsh devolution and was naturally disappointed that the establishment of a Welsh Assembly was resoundingly rejected in the 1979 referendum.
Fall from grace
A few months later he would step down from the House of Commons to be replaced by the Conservative MP Keith Best - the first time the party had won the seat for more than two centuries.
Heckled at the count, the barrister from Brighton took to his new role as he went about learning Welsh and gained a reputation as a hard-working constituency MP.
However, his efforts would ultimately be undone by his fraudulent acquisition of British Telecom shares following privatisation by the Thatcher government.
Despite his supporters mounting a 'Keep Best' campaign, Mr Best stood down in 1987, paving the way for another politician in that year's election who would go on to represent the island for more than a quarter of a century.
Ieuan Wyn Jones became Ynys Mon's first Plaid Cymru MP - a position he held until stepping down in 2001 following his election to the Welsh Assembly in 1999.
At a Westminster level, Albert Owen recaptured the island constituency for Labour in 2001 - a seat he holds to this day.
The close-run contest was another example of the island's turbulent politics, dominated by personalities rather than parties.
Council calamity
That has certainly been the case on the council, where independents have played a leading role.
The local authority was destabilised for the best part of a decade by political infighting, which all came to a head in 2011 when the Welsh government stepped in.
Commissioners ran the authority for more than two years until control was returned in May 2013, just weeks after postponed local elections seen as central to the council's renewal.
The authority was left with no overall control until a coalition was formed between independents, the Labour group and a Liberal Democrat councillor.
It was an obvious disappointment for Plaid Cymru, who are the biggest party on the council.
Nonetheless, it was a good election for the party that puts them in a strong position on the island.
Having won the seat in all four assembly elections thus far, they appear confident they can continue their run.
But if history teaches us anything, nothing can be taken for granted on Ynys Mon.
The by-election for the Ynys Mon assembly constituency takes place on 1 August, and will also see candidates from UKIP and Socialist Labour standing. A full list of candidates is available here.