Orange algae in sea off north Wales 'not harmful'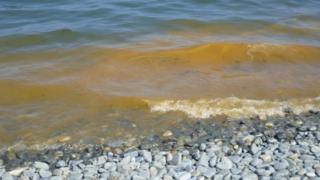 Tests of bright orange-coloured water found at some north Wales beaches have shown it is a harmless marine algae.
The algae, known as sea sparkle because it glows in the dark, has been found at Penmaenmawr beach in Conwy, in Llandudno and might be in other areas.
Natural Resources Wales (NRW) said tests on the orange water showed it to be the early stages of the Noctiluca marine algae which is not harmful to humans.
It is common at this time of the year.
NRW said it was a naturally occurring phenomenon.
'Monitor conditions'
Richard Berry of NRW said: "Over the last few weeks we've had lots of reports in about material in the sea which is often mistaken for sewage or pollution, but is in fact marine algae.
"It might not look pleasant, but it is a natural process and very common at this time of year and particularly during warm periods of weather.
"It is not causing any environmental impact at the moment, but we'll continue to monitor conditions in the sea over the coming days.
"If anybody thinks they have noticed pollution that isn't marine algae, they should always report it to our incident hotline on 0800 80 70 60."