Conwy mud rescue: Man saved by lifeboat crew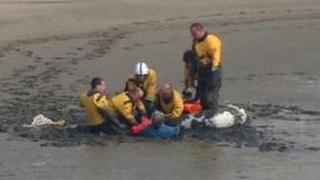 A 69-year-old man has been rescued from deep mud in Conwy by its inshore lifeboat crew.
The local man was around 20ft (6m) from the shoreline, opposite the Liverpool Arms pub, when he became trapped up to his waist.
Holyhead coastguard said the tide was rising in the estuary and rescue teams from Llandudno and Rhyl were at the scene along with firefighters.
The man was checked over by a paramedic but no further action was needed.